Fattoush Salad with Cumin Crisps
Summer 2013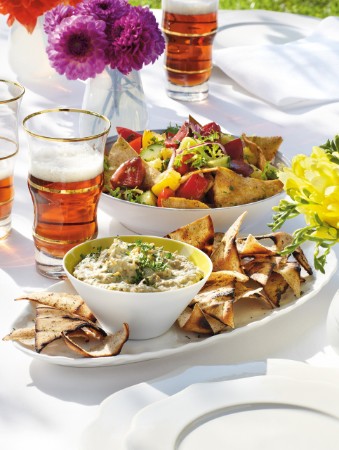 Fattoush Salad with Cumin Crisps
Summer 2013
BY: Marilyn Bentz-Crowley
This combination of bright vegetables can be a side salad or become a main course if accompanied by grilled chicken, lamb, steak or firm, cooked chickpeas. The pita crisps are easy to make and disappear so quickly! An alternative to cumin is zatar, a delightful seasoning of powdered sumac mixed with sesame seeds and thyme that can be found in Middle Eastern stores. Sturdy romaine is best for the salad, holding up well when packed for a picnic, however if serving right away, a mixture of baby spinach, arugula and lettuce is also delicious.
PITA CRISPS
6 pita bread pockets, each 7 inches (18 cm), white or whole-wheat
¼ cup (60 mL) olive oil
2 tsp (10 mL) ground cumin or zatar
Numerous pinches of sea salt

SALAD
3 tbsp (45 mL) freshly squeezed lemon juice
1 large garlic clove, minced
¾ tsp (4 mL) salt
½ tsp (2 mL) ground cumin seed
⅓ cup (80 mL) olive oil
5 to 6 medium ripe tomatoes
1 medium English cucumber
1 large or 2 medium yellow or red bell peppers, seeded
½ medium red onion, very thinly sliced
⅓ cup (80 mL) lightly packed parsley leaves
⅓ cup (80 mL) lightly packed mint leaves
6 cups (1.5 L) lightly packed torn romaine or combination of other salad greens
1 To make crisps, preheat oven to 350°F (180°C).

2 Lay pita flat on cutting board; lightly brush both sides with olive oil. Continue, forming into stacks of 3.

3 Using a large chef's knife, slice stack into 8 wedges (like cutting a pie); repeat with second stack. Open each wedge and pull apart, forming 2 wedges. Lay rough-side down slightly apart on ungreased baking sheets. Sprinkle with generous pinches of cumin and more lightly with salt.

4 Working in batches, bake 10 to 15 minutes (depending on thickness of pita), stirring once, or until dry and browning about the edges. Cool; store, airtight, at room temperature for up to several days or freeze.

5 To make salad, place lemon juice in a small bowl; add garlic, salt and cumin seed. Let stand 5 minutes; then add oil. Whisk and set aside.

6 Cut tomatoes, cucumber and peppers into bite-size pieces; place in a large mixing bowl. Add onion; lightly toss until mixed. Coarsely chop parsley and mint; add to vegetables.

7 Whisk lemon dressing; drizzle over vegetables and toss. Add romaine; toss. Dress and pack salad for picnic up to 4 hours ahead. When ready to serve, add a couple of handfuls of crisps to salad; toss. Or, if serving shortly after preparation, toss salad with a combination of greens and a couple of handfuls of crisps. Pass remaining crisps.
Salad serves 6 to 8, also makes 96 small crisps
SHARE