Spinach Salad With Vidalia Dressing
Printemps 2007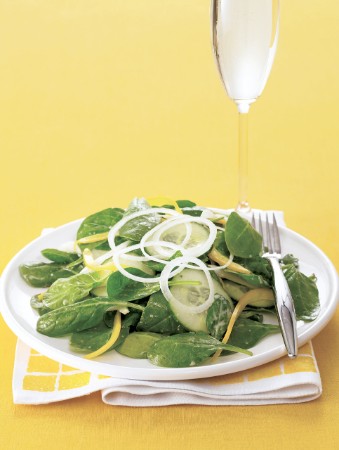 Spinach Salad With Vidalia Dressing
Printemps 2007
BY: Marilyn Bentz-Crowley
Vidalia and other sweet onions such as Texas 1015 (named after the planting date of October 15) are seasonal, appearing in spring and alas disappearing by mid-summer for the year. Here, fresh fennel adds crispy sweetness and the dressing is so delicious that you'll make it for tossed salads too.
1/3 cup (75 mL) olive oil
3 tbsp (45 mL) white-balsamic or white-wine vinegar
1 tbsp (15 mL) honey
1 egg yolk (see tip below)
½ tsp (2 mL) salt
¼ tsp (1 mL) freshly grated black pepper
¼ cup (50 mL) finely chopped Vidalia or other sweet onion
½ medium English cucumber
1 sweet yellow or red pepper
½ head fresh fennel
10 cups (2.5 L) lightly packed baby spinach
Several thin slices of Vidalia onion
1. Whirl oil, vinegar, honey, yolk, salt and pepper in a blender. Whirl in onion to purée. Refrigerate, covered, until needed.

2. Slice cucumber thinly. Seed and thinly slice yellow pepper. Thinly slice white bulb portion of fennel, discarding green stalks and feathery tops. Place spinach into a large salad bowl; add cut vegetables. Pour dressing over spinach mixture; toss. Separate onions slices into rings; scatter overtop. Serve right away.

Tip: If you prefer not to use raw egg, substitute 2 tbsp (25 mL) mayonnaise, decrease oil to ¼ cup (50 mL) and increase honey to 1½ tbsp (22 mL).
SHARE