Salad Greens with Sugar Pears & Spiced Pecans
Autumn 2014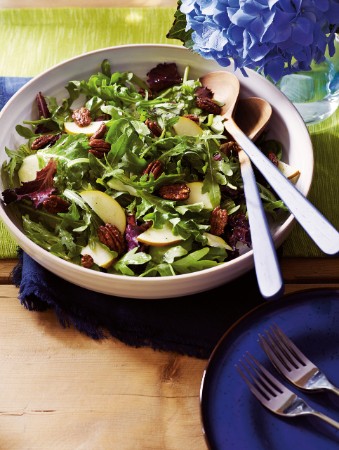 Salad Greens with Sugar Pears & Spiced Pecans
Autumn 2014
BY: Marilyn Bentz-Crowley
Sugar pears are small pears that appear in early to mid-autumn. They are quite sweet when still a bit underripe and firm—perfect for this salad. If unable to find them, buy a Bosc or red pear that is very slightly underripe.
PECANS
¼ cup (60 mL) granulated sugar
1 tbsp (15 mL) butter
1 tbsp (15 mL) each of balsamic vinegar and water
⅛ to ¼ tsp (0.5 to 1 mL) cayenne (see TIP)
Pinch of salt
1 cup (250 mL) pecan halves

VINAIGRETTE
¼ cup (60 mL) pear or apple juice
1 tbsp (15 mL) cider or sherry vinegar
1 tbsp (15 mL) olive oil
1 small garlic clove, minced
¼ tsp (1 mL) each of Dijon mustard and salt
Several grindings of black pepper

SALAD
3 to 4 sugar pears or 1 large Bosc pear
8 cups (2 L) lightly packed baby greens
including some bitter greens such as frisée or arugula
1 To make pecans, line a metal sheet with parchment paper; place on a cooling rack. Combine sugar, butter, vinegar, water, cayenne and salt in a medium saucepan over medium heat for 3 to 4 minutes. Meanwhile spread out pecans in a doughnut shape on a plate and microwave for 1 minute or until very warm, but not burning hot.

2 When syrup is briskly bubbling, add warm pecans. Cook, stirring constantly, for 3 to 5 minutes or until pecans are well coated and sugar is caramelized. At the end, small puffs of caramel smoke are visible.

3 Turn out pecans onto parchment; then, using 2 forks, immediately pull apart into individual pecans. (Warning, caramelized pecans are extremely hot; do not touch with fingers until cooled.) Cool; store in a sealed container to prevent pecans from becoming sticky.

4 For vinaigrette, whisk juice with vinegar, olive oil, garlic, Dijon, salt and pepper; set aside.

5 When ready to serve, thinly slice unpeeled pears. Whisk vinaigrette again. Toss greens and pear slices with vinaigrette. Portion onto plates. Dividing equally, drizzle with any remaining vinaigrette in bowl. Top with a scattering of pecans; serve remaining pecans in a small dish at the table. Serve right away.


TIP Pecan spiciness: ⅛ tsp (0.5 mL) of cayenne gives a slight heat to pecans while ¼ tsp (1 mL) make the nuts quite spicy.
SHARE