Saigon Pancakes with Shrimp, Pancetta and Green Onions
Hiver 2006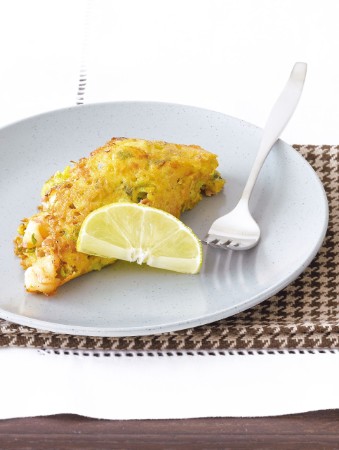 Saigon Pancakes with Shrimp, Pancetta and Green Onions
Hiver 2006
BY: Dana Speers
If you can't find light coconut milk, you will need to thin down the regular coconut milk with water (mix 1 ¼ cups (300 mL) regular coconut milk and ¼ cup (50 mL) water). You can substitute regular bacon or peameal back bacon for the pancetta. Because pancetta comes very thinly sliced, it's important to reduce the number of total slices of side bacon or back bacon to 3 instead of 16. Asian rice flour, sambal oelek (ground fresh chili paste), and nam pla (fish sauce) are available at Asian markets and some supermarkets. If the crepes fall apart slightly when you flip them, don't worry about it, they'll still taste great.
½ tsp (2 mL) vegetable oil
12 thin slices pancetta, chopped
20 medium shrimp, peeled and diced
4 green onions, thinly sliced
2 tsp (10 mL) fish sauce
1 cup (205 mL) Asian rice flour
Pinch salt
½ tsp (2 mL) Madras curry powder
1 ½ cup (375 mL) light unsweetened coconut milk
½ tsp (2 mL) sugar
2 tsp (10 mL) chopped fresh mint

For Frying
3 tbsp (50 mL) vegetable oil

Garnish
Lime wedges, for serving
1. Preheat oven to 200º F (106ºC).

2. Heat vegetable oil in a 7-inch (18-cm) nonstick skillet over medium heat. (If your skillet is larger, make a larger pancake and cut in half for serving. Add the pancetta and fry until crisp, about 1 to 2 minutes. Add the shrimp and toss just until the shrimp turn pink. Stir in the green onions, sambal oelek and fish sauce. Remove from skillet, set aside to cool.

3. Whisk together the Asian rice flour, salt and curry powder in a medium bowl. Slowly add the coconut milk, whisking until smooth. Stir sugar and mint into the batter and stir until dissolved. Mix in the cooled shrimp and pancetta mixture.

4. Heat skillet over medium heat. Add about ½ tbsp (8 mL) vegetable oil, heat, then pour ½ cup (125 mL) pancake batter into the pan. Swirl quickly to coat entire bottom of pan. If it does not coat, don't worry, go ahead and cook it anyway. Cook pancake until set and golden on bottom, about 2 minutes. Then flip pancake over with a spatula or your fingers.

5. Fry pancake an additional 1 to 2 minutes and slide it out onto a plate. Fold over. Keep plate warm in the oven and repeat with the remaining batter until you have 4 pancakes. Serve with lime wedges.
SHARE