Sablefish Caramelized with Soy and Sake
Winter 2010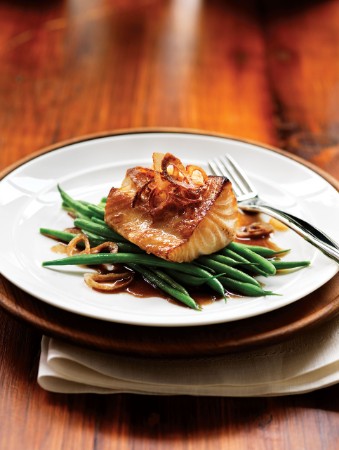 Sablefish Caramelized with Soy and Sake
Winter 2010
Frank Pabst
Blue Water Café, Vancouver

This recipe can also be found in Frank Pabst's new cookbook, Blue Water Cafe Seafood (Douglas & McIntyre, $45). Tamarind is a tart fruit that is used in chutneys and pickles, and is often ground to obtain a paste. It is available in many Asian food stores. This recipe also calls for mirin, a sweet cooking wine. Find it at most supermarkets.
Soy Sake Marinade
½ cup (125 mL) sake
½ cup (125 mL) water
½ cup (125 mL) soy sauce
1 tbsp (15 mL) brown sugar
1 tbsp (15 mL) mirin
4 sablefish fillets, 6 oz (175 g) each, skin on

Maple Tamarind Sauce
3 tbsp (45 mL) olive oil
½ cup (125 mL) sliced carrot
½ cup (125 mL) sliced celery
½ cup (125 mL) sliced onion
1 tbsp (15 mL) sliced jalapeño pepper
1 tsp (5 mL) mustard seeds
1 tsp (5 mL) black peppercorns
1 sprig thyme
1 bay leaf
¼ cup (50 mL) balsamic vinegar
¼ cup (50 mL) maple syrup
2 tsp (10 mL) tamarind paste
4 cups (1 L) chicken stock
Salt and freshly ground pepper

Vegetables
10 oz (300 g) green beans
2 tbsp (25 mL) unsalted butter
2 cups (500 mL) canola oil for deep-frying
¼ cup (50 mL) flour
Pinch cayenne pepper
4 shallots, thinly sliced
1. Combine sake, water, soy sauce, brown sugar and mirin in a small saucepan over high heat and bring to boil. Reduce heat to medium-high and simmer until sugar is dissolved and alcohol has evaporated, about 2 minutes. Remove from heat, let cool, then refrigerate until well chilled.

2. Combine sablefish and soy sake marinade in a resealable plastic bag and refrigerate overnight.

3. Heat olive oil in a large saucepan over medium heat. Add carrot, celery, onion and jalapeño and cook gently for 5 to 10 minutes or until fragrant. Add mustard seeds, peppercorns, thyme, bay leaf, vinegar, maple syrup, tamarind paste and chicken stock and cook for 30 to 35 minutes or until liquid is reduced to sauce consistency and coats the back of a spoon. Strain sauce through a fine-mesh sieve into a clean bowl and season with salt and pepper to taste. This sauce will keep refrigerated in an airtight container for up to 7 days.

4. Bring a medium pot of salted water to boil. Add beans and blanch for 2 to 3 minutes or until tender-crisp. Transfer beans to a bowl and toss with butter. Season with salt and pepper to taste.

5. Heat canola oil in a deep fryer or a deep pot to 300°F (150°C). Combine flour and cayenne in a bowl and season with salt. Toss shallot slices in seasoned flour to dredge, then fry in the oil until golden and crisp, about 30 seconds. Remove shallot slices and drain on paper towels. Season with salt.

6. Remove sablefish fillets from refrigerator and let come to room temperature.

7. Turn on broiler. Place sablefish, skin-side down, in a cast-iron pan and place in the upper third of oven for 5 to 10 minutes or until deeply caramelized. Cooking time will depend on the thickness of the fillets.

8. Divide green beans among 4 serving plates. Using a metal spatula, lift each fillet from its skin and place on top of beans. Sprinkle with fried shallots and finish with maple tamarind sauce.
SHARE