Rutabaga & Carrot Mash
Holiday 2013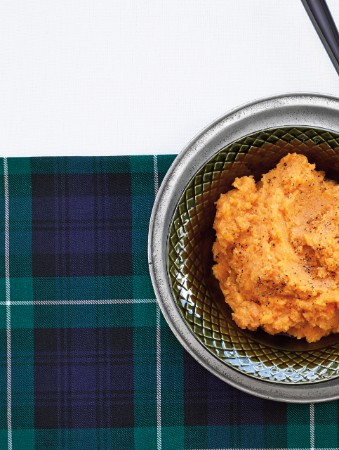 Rutabaga & Carrot Mash
Holiday 2013
BY: Jennifer MacKenzie
Rutabaga and carrots are holiday favourites, and this brightly coloured mash is a terrific addition to the vegetable selection, whether with turkey, roast beef or ham. Dealing with the rutabaga is the only tricky part of making this.Use a large cutting board and a good sharp knife; cut the rutabaga in half first, then place flat-side down for safe cutting. The dish is nice when freshly mashed and served right away, but you can make it ahead and refrigerate for  1 to 2 days, then reheat it in a covered casserole dish for 30 to 45 minutes in a 350°F (180°C) oven or in the microwave for convenience.
1 rutabaga, about 2½ lbs (1.25 kg)
4 large carrots
¼ cup (60 mL) butter, cut into cubes
1 tsp (5 mL) salt
½ tsp (2 mL) freshly ground pepper
2 tbsp (30 mL) fresh lemon juice
1 Scrub rutabaga with a brush under very warm, running water to remove some of the wax. Use a sharp vegetable peeler to remove all of the thick skin. Cut into large, evenly sized chunks, about 1½ to 2 inches (4 to 5 cm) in size. Cut carrots into similar size chunks.

2 Place rutabaga and carrots in a large pot and add cold water to cover by about 2 inches (5 cm). Cover pot and bring to a boil over high heat. Set lid slightly ajar, reduce heat so water remains at a gentle boil, and boil for about 40 minutes or until vegetables are tender when pierced with a fork.

3 Drain vegetables well in a colander and return to pot over low heat. Shake pot gently for 1 to 2 minutes to let excess liquid evaporate from vegetables.

4 Add butter, salt, pepper and lemon juice and use a potato masher to mash until fairly smooth for a rustic mash. For a smoother purée, use an immersion blender or transfer to a food processor and purée until smooth. Transfer to a warmed serving bowl to serve right away or transfer to a buttered casserole dish if making ahead, and reheat.
SHARE