Rustic Provençale Tart
Été 2008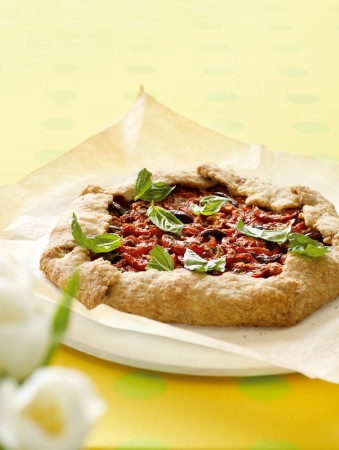 Rustic Provençale Tart
Été 2008
BY: Eshun Mott
The savoury-sweet flavours of this free-form tomato tart conjure up the sunny south of France with every bite.
1 lb (500 g) tomatoes, sliced ¼ inch (5 mm) thick and seeded
1 tbsp (15 mL) balsamic vinegar
Salt and freshly ground pepper
1½ tsp (7 mL) chopped anchovies
1 tbsp (15 mL) chopped garlic
2 tsp (10 mL) chopped parsley
1 tsp (5 mL) chopped thyme
2 tbsp (25 mL) olive oil
1 cup (250 mL) sliced onion
½ cup (125 mL) fresh bread crumbs
1 recipe tart pastryFlour, to dust
2 tbsp (25 mL) Dijon mustard
1¼ cup (300 mL) freshly grated Parmesan cheese
2 tbsp (25 mL) quartered black olives
4 large basil leaves, torn
1. Preheat oven to 425°F (220°C).

2. Place tomatoes in a bowl. Add vinegar, season with salt and pepper and toss to combine. Let tomatoes marinate for 30 minutes or until they have released some of their juices then drain well. Toss tomatoes with anchovies, 1 tsp (5 mL) of garlic, parsley and thyme.

3. Heat 1 tbsp (15 mL) olive oil in a frying pan over medium-low heat. Add onion, season with salt and cook, stirring occasionally for 5 minutes or until beginning to brown. Turn heat to low and cook for 10 minutes more or until caramelized. Scrape onions into a bowl and set aside.

4. Return frying pan to medium heat and add remaining tbsp (15 mL) oil. Add remaining 2 tsp (10 mL) garlic and sauté for 1 minute or until just beginning to turn golden. Add bread crumbs and sauté, stirring for 3 minutes or until they are toasted. Season with salt and pepper and set aside.

5. Lay pastry out on a sheet of parchment paper, dust with flour and roll into a rough circle about 12 inches (30 cm) in diameter. Spread mustard in an even layer over the inside 9-inch (23-cm) diameter of tart. Sprinkle with toasted bread crumbs and 1 cup (250 mL) of Parmesan cheese.

6. Lay tomatoes on top of Parmesan in a decorative fashion. Tuck olives between tomatoes and sprinkle with remaining ¼ cup (50 mL) Parmesan. Fold overhanging pastry edge up over edges of tomatoes to enclose the tart. Slide tart and parchment onto a baking sheet.

7. Bake in lower third of oven for 35 minutes or until bottom crust of pastry is browned and tomatoes are cooked. Top tart with roughly torn basil leaves just before serving.
SHARE