Rustic Mashed Potatoes
Winter 2007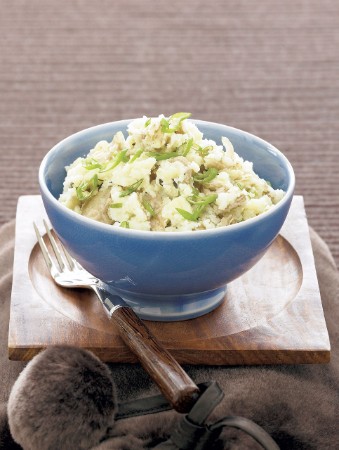 Rustic Mashed Potatoes
Winter 2007
BY: Marilyn Bentz-Crowley
Along with the magical reputation of chicken soup, there is the notion that food should be dairy-free for anyone suffering from a cold or flu. These mashed potatoes have the benefits of garlic, onion and the vitamin C located just under potato jackets.
2 to 2½ lbs (1 to 1.25 kg) small thin-skinned potatoes, preferably yellow-fleshed
3 whole garlic cloves, peeled
1 tbsp (15 mL) kosher or sea salt
¼ cup (50 mL) extra virgin olive oil
1 tsp (5 mL) finely chopped fresh thyme
¼ tsp (1 mL) freshly ground black pepper
2 green onions, very thinly sliced
1. Pour enough water into a large saucepan to cover unpeeled potatoes and whole garlic; add salt. Bring to a boil over high heat. Partially cover, reduce heat to low; cook for 15 to 25 minutes or until fork tender. Drain; return potatoes to saucepan. Using a potato masher, coarsely mash unpeeled potatoes.

2. Mash garlic cloves on a small plate, using a fork. Stir into olive oil along with thyme and pepper. Stir oil mixture and most of green onions into potatoes. Taste and add more salt if needed. Pile into a warmed serving bowl. Serve right away, sprinkled with remaining green onions.
Makes 8 side-dish servings
SHARE