Russian Mushroom Caviar
Hiver 2013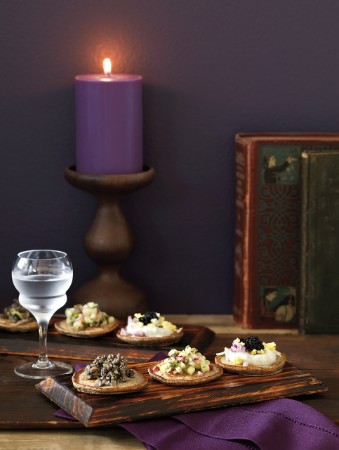 Russian Mushroom Caviar
Hiver 2013
BY: Lucy Waverman
Mushroom caviar is wonderful. It looks like the real thing and has a subtle, interesting flavour. It will keep, refrigerated, for about a week. You can use regular cultivated mushrooms, if desired, but portobello mushrooms give the darkest, most caviar-like look.
2 tbsp (30 mL) olive oil
1 cup (250 mL) chopped onion
1 lb (500 g) portobello mushrooms, coarsely chopped
1 tbsp (15 mL) chopped garlic
Salt and freshly ground pepper to taste
Pinch cayenne
1 tbsp (15 mL) fresh lemon juice
2 tbsp (30 mL) chopped fresh dill
2 tbsp (30 mL) sour cream
2 tbsp (30 mL) sliced green onions
1 Heat 1 tbsp (15 mL) oil in large skillet over medium heat. Add onion and sauté until golden, about 5 to 6 minutes.

2 Add remaining oil, raise heat to medium-high. Add mushrooms and garlic to pan and season with salt and pepper. Sauté until all the mushroom liquid evaporates and the mixture is dry, about 6 to 7 minutes. Remove from heat.

3 Spoon onion and mushroom mixture in food processor and process until minced but not puréed.

4 Combine the minced mixture with cayenne, lemon juice, dill, sour cream, green onions, salt and pepper in a bowl. Mix well. Refrigerate until ready to serve.
SHARE