Hummus Salad Rolls
Début de l'été 2017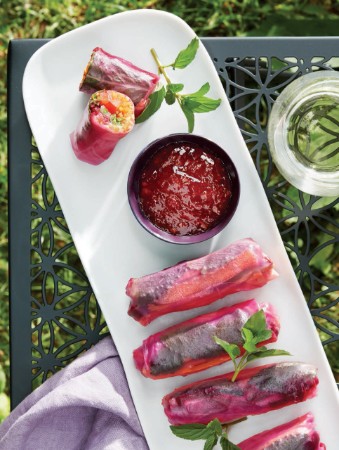 Hummus Salad Rolls
Début de l'été 2017
BY: Marilyn Bentz-Crowley
Fill these rolls with whatever vegetables are fresh and crisp. Lemony hummus and crunchy peanuts add protein while making these particular rolls both vegetarian and vegan. Soaking the rice papers in beet juice gives them a pretty pink hue but no flavour. Y and Y Brand Sweet Chilli Sauce contains no colouring or preservatives.
¾ cup (175 mL) each of 4 julienned vegetables such as carrot, cucumber, snow or snap peas, beets, radish, celery and sweet pepper
¾ to 1 cup (175 to 250 mL) salted and roasted peanuts
1 can (398 mL) sliced or whole beets
16 to 20 rice papers, each 6½ inches (16 cm) in diameter
½ to ¾ cup (125 to 175 mL) hummus
Fresh coriander or mint leaves
1½ cups (375 mL) sweet chilli sauce
3 tbsp (45 mL) freshly squeezed lime or lemon juice
Sambal oelek or sriracha (optional)
1. Julienne chosen vegetables so slivers are 3 inches (8 cm) long or less. Each roll requires a bundle of vegetables about 1 inch (2.5 cm) in diameter. Chop peanuts.

2. Drain beet juice into a measuring cup; add enough water to make 1¼ cups (310 mL). Pour into a small pie plate.

3. Working with 1 or 2 rice papers at a time, place into juice for 60 to 90 seconds or until just pliable. Then lay on an old dry tea towel.

4. Lightly spread rice paper half closest to you with about ½ tbsp (7 mL) hummus, keeping it in from edges. Sprinkle with some peanuts. Place a few vegetables of each kind on top, keeping them to the middle. On the opposite side of circle, place 2 to 3 leaves of coriander or mint on rice paper slightly in from edge.

5. Fold up bottom nearest you over vegetables. Fold in sides. Grasp vegetables to keep compact while rolling up into a cigar shape. Place in damp paper-towel-lined container. Cover with plastic wrap. Refrigerate until needed, up to half a day.

6. Stir chilli sauce with lime juice. Spread about 1 tbsp (15 mL) chilli sauce on each plate.

7. Lay 2 rolls overtop, cutting one in half to stand up. Pass remaining chilli sauce and also sambal oelek for guests to add as desired.
SHARE