Rosemary-Skewered Mediterranean Grilled Chicken
Early Summer 2007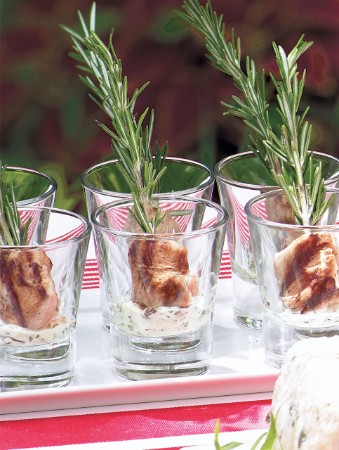 Rosemary-Skewered Mediterranean Grilled Chicken
Early Summer 2007
BY: Lucy Waverman
This chicken uses branches of rosemary as the skewers. It looks beautiful and tastes even better, as the rosemary flavour becomes embedded in the chicken. Alternatively , you can also use plain wooden skewers that have been soaked for 30 minutes ahead of time.
Thirty 3-inch (8-cm) sprigs of rosemary
2 tbsp (25 mL) olive oil
2 tbsp (25 mL) Dijon mustard
1 tbsp (15 mL) soy sauce
1 tbsp (15 mL) chopped garlic
½ cup (125 mL) orange juice
2 tsp (10 mL) chopped jalapeño pepper
Salt to taste
1½ lb (750 kg) boneless, skinless chicken breasts
1. Remove leaves from one end of rosemary sprigs and reserve. Sharpen one end of the sprig to make it easier to pierce the meat. Soak sprigs in water for an hour to prevent burning on the grill.

2. Chop reserved rosemary leaves to make about 2 tbsp (25 mL). Combine with mustard, olive oil, soy sauce, garlic, orange juice and jalapeño peppers. Salt lightly.

3. Cut chicken breasts into approximately 1½-inch (4-cm) cubes. Place in marinade and marinate for 1 hour.

4. Preheat grill or grill pan.

5. Skewer one cube on each rosemary sprig. Wrap foil around the base of the sprig to prevent burning.

6. Place on grill and grill about 3 minutes per side, 6 minutes total, or until juices run clear. Remove from grill and cool. Serve with Provençal Sauce (recipe follows).

Provençal Sauce
Place sauce in small glasses and add a skewer to each glass for a unique presentation.

1 cup (250 mL) mayonnaise
1 tsp (5 mL) chopped garlic
2 cups (500 mL) lightly packed baby spinach
2 tbsp (25 mL) lemon juice
4 anchovies, chopped
2 tbsp (25 mL) chopped parsley
2 tbsp (25 mL) chopped chives
1.  Combine all ingredients in food processor and process until slightly chunky.
SHARE