Rosemary Crumb-Baked Ham with Calvados
Printemps 2000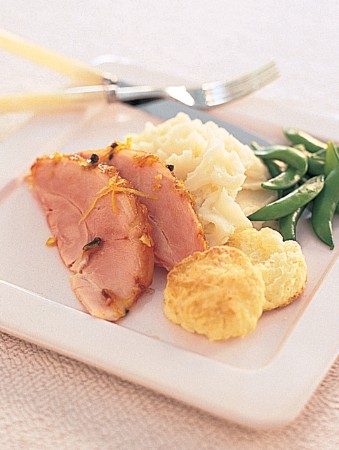 Rosemary Crumb-Baked Ham with Calvados
Printemps 2000
BY: Johanna Burkhard
This beautiful ham with its herb crumb topping could be served with creamy mashed sweet potatoes or scalloped potatoes and a spring vegetable such as asparagus.
One 8 lb (4 kg) bone-in smoked ham, shank end
2 cups (500 mL) apple cider
2/3 cup (150 mL) Calvados or brandy
1/2 cup (125 mL) Dijon mustard
1/4 cup (50 mL) packed brown sugar
1 1/2 cups (375 mL) fresh baguette bread crumbs
2 tbsp (25 mL) finely chopped fresh parsley
2 tbsp (25 mL) finely chopped fresh rosemary
2 tbsp (25 mL) cider vinegar
2 tbsp (25 mL) maple syrup
1 tbsp (15 mL) cornstarch
1. Preheat oven to 325°F (160°C).
2. Remove skin and trim all the fat from ham using a sharp knife. Place in a large roasting pan and pour over apple cider and Calvados. Bake uncovered, basting occasionally with pan juices, for 1 3/4 hours. Remove from oven and transfer ham to a platter. Drain pan juices into a large glass measuring cup and return ham to roasting pan.
3. Set aside 1 tbsp (15 mL) of the mustard for the sauce. Stir together remaining mustard and brown sugar in a bowl. Combine bread crumbs, parsley and rosemary in another bowl. Spread a thick coating of mustard mixture all over ham and press on bread crumb mixture. Return to oven and bake for 30 to 45 minutes or until crumb crust is golden and meat thermometer registers 140°F (60°C). Transfer ham to a warm platter, loosely cover with foil and let rest for 15 minutes before carving.
4. Meanwhile, degrease pan juices using a fat separator or carefully spoon off any fat. Measure the
amount of pan juices, there should be 1 1/3 cups (325 mL). Add additional apple cider, if necessary. Pour into a medium saucepan and whisk in cider vinegar, maple syrup and reserved mustard. Bring mixture to a boil over medium-high heat. Blend cornstarch with 2 tbsp (25 mL) cold water and whisk into sauce; cook until thickened and smooth. Cut ham into slices and serve accompanied with sauce.
Serves 8 to 10 with generous leftovers
SHARE