Rosemary & Wine-Braised Oxtails
Winter 2013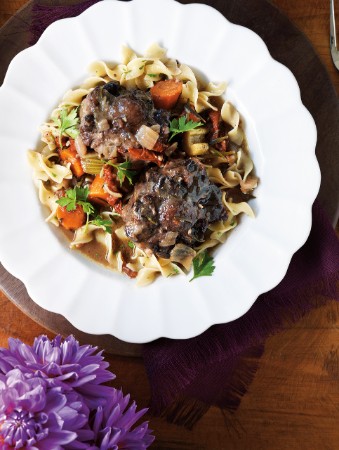 Rosemary & Wine-Braised Oxtails
Winter 2013
BY: Emily Richards
The intoxicating aroma of oxtails braising in wine is a wonderful way to invite guests into your home. Oxtails come in varying sizes; mainly they are bone, but the tender almost creamy meat is truly tasty and lip-smacking good.
2 tbsp (30 mL) extra virgin olive oil
1 large onion, chopped
2 ribs celery, chopped
1 large carrot, chopped
6 cloves garlic, minced
4 lbs (2 kg) oxtails (10 to 12 pieces)
2 cups (500 mL) dry red wine
½ cup (125 mL) beef broth or stock
6 sprigs fresh rosemary
½ cup (125 mL) julienned sun-dried tomatoes in oil

BUTTER-PARSLEY NOODLES
1 lb (500 g) egg noodles or rotini pasta
3 tbsp (45 mL) butter
1 tbsp (15 mL) chopped fresh parsley
2 tbsp (30 mL) butter, softened
2 tbsp (30 mL) all-purpose flour
Salt and pepper
1 Heat oil in large wide shallow saucepan over medium heat and cook onion, celery, carrot and garlic for about 5 minutes or until softened. Increase heat to medium-high and add oxtails, cooking and turning until they start to brown.

2 Pour in red wine and broth. Add rosemary and sun-dried tomatoes; bring to a boil. Cover and simmer gently for about 3 hours or until oxtails are very tender.

3 To make noodles, bring a large pot of salted water to a boil and add egg noodles. Cook, stirring occasionally, for about 8 minutes or until tender but firm. Drain and return to pot. Toss with butter and parsley.

4 Remove oxtails from sauce. Mash butter and flour together until smooth. Stir into sauce and cook for about 3 minutes or until thickened slightly. Season with salt and pepper to taste. Return oxtails to sauce, turning to coat and warm through.

5 Serve oxtails and sauce over egg noodles.
SHARE