Rosé & Cherry Jellies with Almond Whipped Cream
Early Summer 2019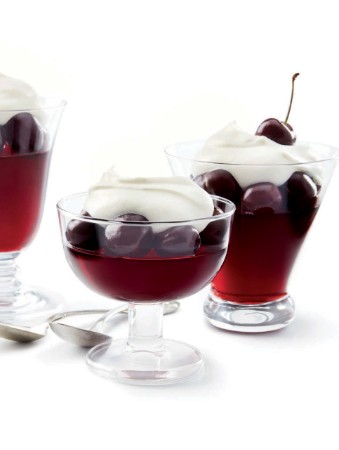 Rosé & Cherry Jellies with Almond Whipped Cream
Early Summer 2019
BY: Signe Langford
Don't get stressed by cooking with gelatin—especially the powdered stuff—make this recipe the day before, giving the jellies time to gel and you, time to chill! Here, we've blended an off-dry rosé with cherries and cherry juice, for a delightful sweet-tart flavour. It calls for one 750-mL bottle of rosé, but we suggest putting a second one on ice for sipping alongside.
4 cups (1 L) cherries, pitted, fresh or frozen
1 bottle (750 mL) off-dry rosé, divided
½ cup plus 2 tbsp (125 mL plus 30 mL) superfine sugar, divided
1½ cups (375 mL) pure cherry juice
2½ tbsp (38 mL) gelatin powder (3 little paper packets, if you use Knox brand)
2 cups (500 mL) 35% whipping cream
1 tsp (5 mL) almond extract
About ¼ to ⅓ cup (60 to 80 mL) sliced raw almonds (optional garnish)
1 Start this recipe the day before by adding cherries to a bowl with about 1¼ cups (310 mL) of the rosé—more or less to cover cherries—and ½ cup (125 mL) superfine sugar. (Using superfine sugar eliminates the possibility of undissolved sugar crystals.) Set in the fridge to macerate for 30 minutes.

2 Set small glasses for juice, wine or Martini, jars or glass sundae dishes onto a tray—there may be some dripping and a tray will help in transferring the jellies to the fridge to set. Having a jug or ladle and wide-mouth funnel on hand would be very helpful too.

3 After 30 minutes strain the macerated cherries through a sieve set over a saucepan. Once drained, set the cherries aside in a bowl in the fridge; they will continue to release liquid that can be used for garnishing.

4 Place saucepan of cherry drippings over medium heat, add pure cherry juice and bring to a simmer.

5 Into a large heatproof bowl, add the remaining wine, sprinkle the gelatin over it, stir and allow it to bloom or soften—about 5 minutes.

6 Once the gelatin has bloomed, add the simmering cherry liquid. Stir constantly until gelatin is fully melted, about 3 minutes.

7 Transfer liquid to a jug to pour into serving vessels or use a ladle and a wide-mouth funnel to fill each glass or dish about two-thirds to the top, leaving enough room for a layer of whole cherries and a dollop of whipped cream.

8 Transfer the tray of jelly glasses, uncovered, to the fridge to cool for at least 2 hours or overnight, until set.

9 Once jellies are set, top each with a layer of reserved macerated cherries—about 2 tbsp (30 mL) per serving should do—and pop back into the fridge. Reserve 1 cherry to garnish each serving.

10 Just before serving, whip the cream with the almond extract and the remaining 2 tbsp (30 mL) sugar. Spoon a generous dollop of cream onto each, then top with one cherry and a drizzle of juice from the bowl of cherries.

11 For a variation, don't add a layer of cherries to the jellies; instead, fold the whipped cream directly into the macerated cherries and top with a dollop of this pinky-red swirled cream and a single reserved cherry to garnish.

12 Garnish with a pinch of sliced almonds if desired.
Makes 5 cups (1.25 L) liquid; 10 to 12 servings depending on size of vessel(s)
SHARE