Root Vegetable Crisp
Holiday 2007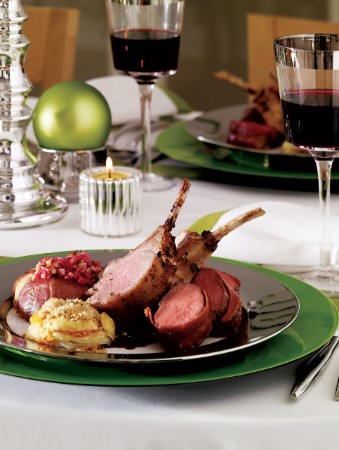 Root Vegetable Crisp
Holiday 2007
BY: Lucy Waverman
If you want to make individual portions, let the gratin cool in the refrigerator before cutting portions out with a 3-inch (8-cm) cookie cutter. Reheat in 400°F (200°C) oven for 15 to 20 minutes.
2 cups (500 mL) peeled and thinly sliced parsnips
1 cup (250 mL) milk
1 cup (250 mL) whipping cream
Salt and freshly ground pepper
Butter
3 cups (750 mL) peeled and thinly sliced sweet potatoes
2 cups (500 mL) peeled and thinly sliced white turnips
2½ cups (625 mL) peeled and thinly sliced Jerusalem artichokes

Topping
¼ cup (50 mL) butter
2 tsp (10 mL) chopped garlic
2 cups (500 mL) bread crumbs
3 tbsp (45 mL) chopped parsley
1. Preheat oven to 400°F (200°C).

2. Place parsnips in cold salted water and bring to a boil. Boil for 2 minutes or until just tender. Drain and rinse with cold water, then pat dry with paper towel.

3. Add milk and cream to a small pot over medium-high heat and season with salt and peppe. Bring to a boil and reserve.

4. Butter a medium gratin dish, about 8 x 10-inch (20 x 25-cm), and layer, overlapping, half of the sweet potatoes. Season with salt and pepper. Repeat with half of the turnips, then with half of the artichokes and finally with half of the parsnips, pressing down firmly with both palms after each layer. Pour over half of cream-milk mixture. Repeat layers with remaining vegetables. Pour over remaining cream-milk mixture, evenly distributing the liquid to all 4 corners. Bake for 45 minutes.

5. While gratin is baking, heat butter in a skillet over medium heat. Add garlic and sauté for 30 seconds. Stir in bread crumbs and parsley. Sprinkle crispy bread crumbs over gratin and bake for another 10 minutes or until topping is crisp.
SHARE