Fresh Mint, Hot Pepper & Feta Rounds
Hiver 2011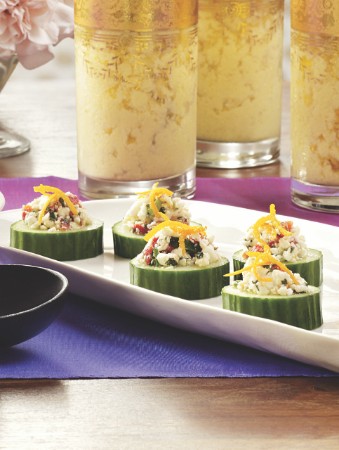 Fresh Mint, Hot Pepper & Feta Rounds
Hiver 2011
BY: Monda Rosenberg
Forget about baking pastry-wrapped canapés. Get your party rolling with crisp cucumber slices filled with tangy cheese jazzed up with hot pickled peppers and lots of fresh mint. Couldn't be easier—and if cucumbers aren't your thing, mound this distinctive mixture on toasted baguette slices, spoon into those tiny store-bought croustades or pile on pieces of warm naan bread.
3 oz (90 g) feta
2 tsp (10 mL) vegetable oil
3 tbsp (45 mL) drained pickled hot pepper rings or roasted red pepper strips
2 tbsp (25 mL) finely chopped green or red onion
2 tbsp (25 mL) finely chopped fresh mint or basil
1 English cucumber
1 lemon or orange (optional)
1 Drain feta and if it tastes salty rinse with cold water, then pat dry with paper towels.Crumble into a bowl. To help hold cheese together, drizzle oil over top and gently work it into cheese. Measure out the pickled peppers and pat dry. Then slice. They should look diced. Sprinkle over the cheese along with the onion and mint. Gently toss. You don't want to mush it together. Taste and add more mint or hot pepper if you like. If making ahead, it's best to add mint just before filling the cucumber since it browns quickly. The cheese mixture will keep well in the refrigerator for at least a day.

2 Slice cucumber into rounds, about ⅓ inch(8 mm) thick. To create hollows in the centre, scoop out a small round in the middle of each slice. A tiny melon baller works well for this. Dry cucumber slices by placing hollowed-side down on a paper towel. Pat the tops with paper towels as well. If making ahead, wrap cucumber in the paper towel and seal in a bag. Refrigerate up to a day.

3 To assemble, gently stir the cheese mixture, then mound into cucumber slices. A round teaspoon measure or melon baller works well for this. After mounding cheese in the cucumber, gently press down. Arrange on a serving platter. Finely grate or zest lemon peel and sprinkle over top. They also look good topped with shredded mint.


SHARE