Roman Salad
Temps des Fêtes 2008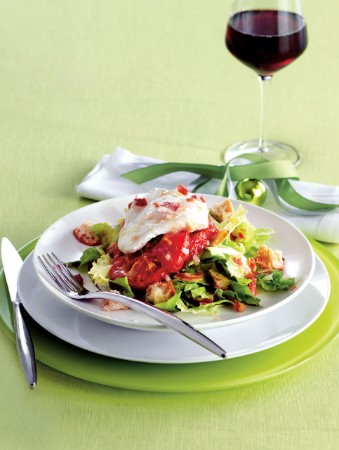 Roman Salad
Temps des Fêtes 2008
BY: Lucy Waverman
A spectacular composed salad topped with a runny poached egg, a version of one I had in Italy. In the summer, fresh sliced tomatoes are lovely but in the winter it is better to roast them for added flavour. Everything, including poaching the eggs, can be done ahead of time. Let the eggs sit in cold water after poaching until needed. Serve them cold, or rewarm by adding them into simmering water for 1 minute. Serve in a shallow bowl rather than a plate.
Roasted Tomatoes
3 tomatoes, sliced about ¼ inch (5 mm) thick
2 tbsp (25 mL) olive oil
Salt and freshly ground pepper

Croutons
2 tbsp (25 mL) olive oil
½ tsp (2 mL) chopped garlic
2 cups (500 mL) ciabatta bread, sliced 1-inch (2.5-cm) thick and torn into chunks
Salt

Dressing
2 tbsp (25 mL) red wine vinegar
2 tsp (10 mL) Dijon mustard
2 tbsp (25 mL) chopped shallots
⅓ cup (75 mL) olive oil
Salt and freshly ground pepper

Salad
8 slices pancetta
1 small head escarole, washed and torn into pieces

Eggs
1 tbsp (15 mL) white vinegar
4 eggs
1. Preheat oven to 350ºF (180ºC).

2. Line a baking sheet with parchment paper and brush with oil. Top with tomato slices, brush the slices with oil and season with salt and pepper. Bake for 45 to 60 minutes or until browned at edges and slightly shrivelled but still juicy.

3. Combine oil and garlic in a bowl or in a mini-chop. Toss garlic oil with bread pieces. Scatter bread onto a cookie sheet, season with salt and bake, tossing occasionally, for 15 minutes or until golden.

4. Combine vinegar, mustard and shallots in a small bowl and slowly whisk in olive oil. Season well with salt and pepper.

5. Place pancetta in a cold skillet, turn heat to medium and fry for 4 to 5 minutes or until pancetta is crisp. Remove from skillet and drain on paper towels. Crumble into pieces.

6. Divide escarole between 4 salad bowls and toss with a little dressing. Top with bacon, croutons and roasted tomato slices and a drizzle more dressing. Reserve.

7. Bring a pot of salted water to boil and add white vinegar. Reduce heat to low, quickly break all 4 eggs into simmering water and poach for 3 to 4 minutes. Using a slotted spoon, remove eggs and add directly onto the salads.
SHARE