Romaine Salad with Pickled Onions & Garlic Bread Crumbs
Été 2016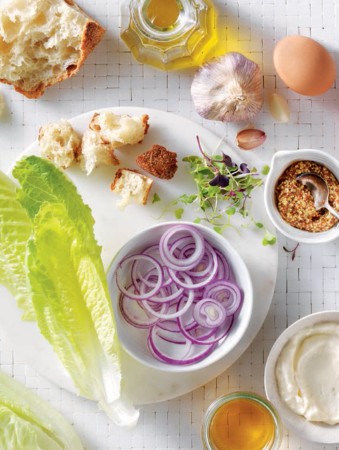 Romaine Salad with Pickled Onions & Garlic Bread Crumbs
Été 2016
BY: Eshun Mott
This salad is like Caesar's fresher summery cousin. Pickled red onions give it a zingy flavour and colour, while the toasted bread crumbs provide great crunch. Serve alongside a wheat beer.
4 large eggs
2 tbsp (30 mL) olive oil
1½ cups (375 mL) fresh very coarse bread crumbs (ideally from a white rustic loaf)
2 tsp (10 mL) chopped garlic
Salt and pepper
⅓ cup (80 mL) apple cider vinegar
⅓ cup (80 mL) water
2 tsp (10 mL) sugar
1 tsp (5 mL) kosher salt
1 small red onion, cut into very thin rings
6 cups (1.5 L) whole baby romaine leaves (hearts)
Creamy Mustard Dressing (recipe follows)
½ cup (125 mL) radish sprouts or other spicy microgreens
1 Bring a small pot of water to a boil. Carefully add eggs and boil for 9 minutes. Drain and rise with cold water. Peel and set aside.

2 Add olive oil to a frying pan and place over medium-low heat. Add bread crumbs and cook, stirring, for 4 minutes or until lightly golden. Add garlic and let cook for 1 to 2 minutes more or until garlic is sautéed and bread crumbs are crisp. Season with salt.

3 Combine vinegar, water, sugar and salt in a small pot and bring to a boil, stirring to dissolve sugar and salt. Add onions, and push into liquid to submerge. Remove from heat and let stand 10 minutes or until onions have softened and become flavourful.

4 Place romaine leaves in a bowl and drizzle in enough Creamy Mustard Dressing, while tossing, to lightly coat. Divide romaine between serving plates. Cut eggs into quarters and divide between plates, seasoning each piece with a pinch of salt and pepper. Divide onions and bread crumbs between plates, and top with radish sprouts.
CREAMY MUSTARD DRESSING

Whisk together 2 tbsp (30 mL) mayonnaise, 1 tsp (5 mL) grainy Dijon mustard, 2 tbsp (30 mL) apple cider vinegar, and ½ tsp (2 mL) sugar in a small bowl. Add ¼ cup (60 mL) extra virgin olive oil in a slow steady stream, whisking constantly to emulsify, until fully combined. Season with salt and pepper to taste.
Makes about ½ cup (125 mL)
SHARE