Romaine Salad with Fresh Cherries, Pumpkin Seeds and Sheep's Milk Feta with Olive Bread Croutons
Summer 2007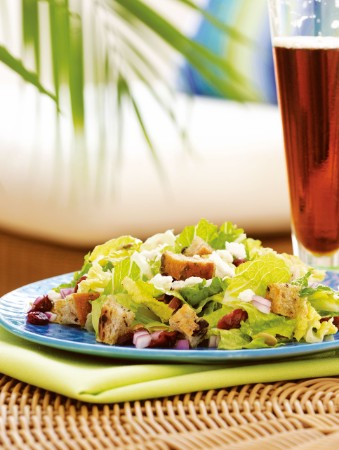 Romaine Salad with Fresh Cherries, Pumpkin Seeds and Sheep's Milk Feta with Olive Bread Croutons
Summer 2007
BY: Tonia Wilson-Vuksanovic
This hearty salad incorporates loads of big flavours and textures, making it substantial enough to partner up nicely with a wonderfully flavoured ale. Bright cherries offer some of summer's fresh bounty and lend a refreshing sweet and sour component to complement the richness of creamy sheep's milk feta.
1/3 cup (75 mL)olive oil
2 cups (500 mL) good quality olive bread, cut into small cubes
1 tsp (5 mL) Dijon mustard
2 tbsp (25 mL) maple syrup
2 tbsp (25 mL) white balsamic vinegar
Salt to taste
2 tbsp (25 mL) finely chopped red onion
1½ cup (375 mL) fresh cherries, pitted and quartered
2 hearts of romaine, torn into bite-size pieces, about 8 cups (2 L)
2 tbsp (25 mL) pumpkin seeds, toasted
½ cup (125 mL) sheep's milk feta (preferably from Ontario)
1. Heat 2 tbsp (25 mL) oil in a large nonstick skillet over medium heat. Add olive bread and sauté until golden about 8 minutes. Set aside.

2. Whisk together remaining ¼ cup (50 mL) olive oil, Dijon, maple syrup, vinegar and salt in a large bowl. Stir in red onion and cherries.

3. Toss mixture with romaine, pumpkin seeds and reserved croutons. Divide salad between 6 plates and top with sheep's milk feta.
SHARE