Roasted-Garlic-Butter-Rubbed Roast Chicken
Printemps 2014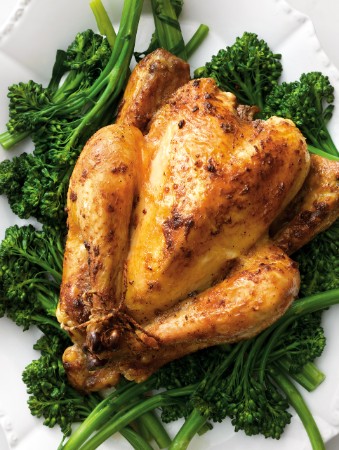 Roasted-Garlic-Butter-Rubbed Roast Chicken
Printemps 2014
BY: Jennifer MacKenzie
This is simplicity at its best. The rich flavour of roasted garlic, butter and a little seasoning are all you need to make a fantastic roasted chicken. This recipe is easy to double if you'refeeding a crowd—just be sure to use a large roasting pan to leave space between the chickens. Roast the garlic when you've got the oven on for another recipe earlier in the day or the day ahead, or roast several heads at a time to freeze for other recipes. This is the time to use the best-quality homemade or store-bought chicken stock, available at gourmet stores, butcher shops and some specialty stores, for the simple jus. Serve fluffy mashed potatoes and tender-crisp green beans or broccolini on the side.
1 large head garlic
¼ cup (60 mL) butter, softened
Salt and freshly ground pepper
1 roasting chicken, about 4 lbs (2 kg)
2 cups (500 mL) good-quality unsalted or low-sodium chicken stock
1 Preheat oven to 400°F (200°C).

2 Cut about ¼ inch (5 mm) from the top of garlic head to expose cloves. Place on a square off oil and spread about 1 tsp (5 mL) of the butter over exposed garlic cloves. Wrap in foil and place in a baking dish. Roast for about 1 hour or until garlic is very soft. Let cool, wrapped in foil.

3 Unwrap garlic and squeeze softened cloves into a bowl, reserving skins. Add remaining butter and ½ tsp (2 mL) each of salt and pepper to roasted garlic. Mash to combine. Set aside at room temperature until ready to roast chicken, up to 12 hours.

4 To roast chicken, preheat oven to 350°F (180°C).

5 Remove any giblets and trim off excess fat from chicken. Pat chicken dry. Place breast-side up on a rack in shallow roasting pan. Place reserved garlic skins inside cavity of chicken and season with salt and pepper. Spread garlic butter all over outside of chicken. Tie legs together and tuck wings underneath back.

6 Roast chicken, basting with pan drippings every 30 minutes, for about 2 hours or until meat thermometer in the thickest part of the thigh and breast reads 170°F (77°C). Transfer to a cutting board, tent with foil and let rest for 15 to 20 minutes.

7 Place roasting pan over medium heat on the stovetop. If your roasting pan is coated inside and not safe for the stovetop, scrape any bits from the pan into a wide saucepan and use that to make jus. Pour in chicken stock and bring to a boil, scraping up bits stuck to pan. Reduce heat and boil, stirring often, for about 10 minutes or until reduced by about half. Season to taste with salt and pepper. Strain through a fine sieve into a warmed gravy boat or jug.

8 Carve chicken and serve with jus.
SHARE