Roasted Vegetable Pâté
Holiday 2018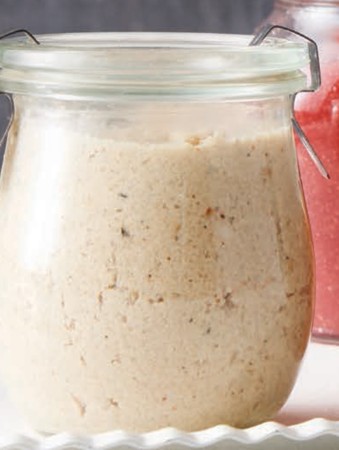 Roasted Vegetable Pâté
Holiday 2018
BY: Jennifer MacKenzie
The depth of flavour from the roasted vegetables will surprise you in this vegetarian spread (that is truly simple to make). It keeps well in the fridge and can be frozen, too, so it's great for giving as a host gift for a dinner party, to a neighbour or as part of a selection of treats for a food-loving family member. Pack it into wide-mouth canning jars or decorative ramekins. Add a small spreading knife and a box of fancy crackers to complete the gift.
1 small cauliflower, chopped, about 5 cups (1.25 L).

2 cups (500 mL) peeled, cubed eggplant

1 onion, chopped

4 cloves garlic

3 tbsp (45 mL) olive oil

About 2 tbsp (30 mL) red wine vinegar, divided

1 tsp (5 mL) chopped fresh thyme

Salt and freshly ground pepper

½ cup (125 mL) unsalted raw sunflower seeds

⅓ cup (80 mL) 35% cream, plus extra

Fresh thyme sprigs
1. Preheat oven to 400°F (200°C). Line a large rimmed baking sheet with foil.



2. Combine cauliflower, eggplant, onion and garlic on baking sheet. Stir together oil, 1 tbsp (15 mL) vinegar, chopped thyme, 1 tsp (5 mL) salt and ½ tsp (2 mL) pepper. Drizzle over vegetables and stir to coat evenly. Spread out into a single layer.



3. Roast vegetables for about 50 minutes, stirring twice, until browned and very soft. Remove from oven. Drizzle remaining 1 tbsp (15 mL) vinegar over vegetables and stir to scrape up brown bits from foil. Let cool completely on baking sheet.



4. Meanwhile, combine sunflower seeds and ⅓ cup (80 mL) cream in a bowl; let stand for 15 to 30 minutes.



5. Transfer roasted vegetables to a food processor and add sunflower seed mixture. Purée until smooth. Add a little more cream, as necessary, to make a thick but spreadable consistency. Check seasoning and add salt, pepper and a little vinegar to taste, as desired.



6. Pack into 3 wide-mouth 1-cup (250 mL) canning jars, ramekins or decorative dishes. Top with thyme sprigs for garnish. Cover and refrigerate for at least 2 hours, until set, or for up to 1 week (or freeze for up to 2 months; let thaw in the refrigerator for 1 day before serving). Let stand at room temperature for 15 to 30 minutes before serving.
Makes about 3 cups (750 mL)
SHARE