Roasted Veal Tenderloin with Sage
Automne 2005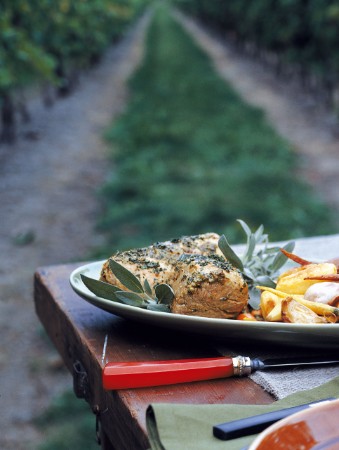 Roasted Veal Tenderloin with Sage
Automne 2005
BY: Lucy Waverman
An easy sophisticated dish with a wine-friendly sauce made with grapes.
2 tbsp (25 mL) Dijon mustard
2 tbsp (25 mL) fresh chopped sage
2 tbsp (25 mL) olive oil
1 tsp (5 mL) cracked peppercorns
2 lbs (1 kg) veal tenderloin
Salt to taste

Sauce
1 cup (250 mL) red grapes, cut in half
2 cups (500 mL) chicken stock
1 tbsp (15 mL) balsamic vinegar
1 tbsp (15 mL) butter
1. Preheat oven to 400ºF (200°C).

2. Combine mustard, sage, 1 tbsp (15 mL) olive oil and peppercorns. Spread over tenderloin and season with a little salt. Heat remaining 1 tbsp (15 mL) oil in skillet large enough to hold veal. Brown veal on each side, about 2 minutes per side.

3. Place pan in oven and bake 12 to 15 minutes or until desired degree of doneness.

4. Remove from oven and place veal on carving board.

5. Discard fat from skillet and add grapes, chicken stock and vinegar. Bring to boil, scraping up any little bits in the skillet. Boil until reduced by half. Whisk in butter.

6. Strain sauce, pressing down on grapes.

7. Slice veal into ½-inch (1-cm) slices and spoon sauce around.
SHARE