Roasted Veal Chops with Lemon Anchovy Aïoli
Early Summer 2006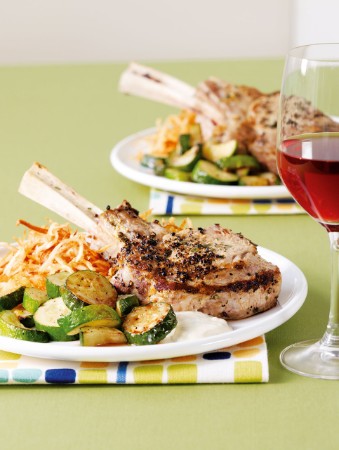 Roasted Veal Chops with Lemon Anchovy Aïoli
Early Summer 2006
BY: Lucy Waverman
Serve with green beans and sautéed potatoes. Put a small dab of the sauce beside the chop and pass the rest separately. Anchovies enhance the taste of veal.
1 tbsp (15 mL) Dijon mustard
4 French-cut veal chops, about 12 oz (375 g) each
and 1¼-inch (3-cm) thick
1 tbsp (15 mL) chopped fresh lemon thyme
Salt and cracked black pepper
2 tbsp (25 mL) olive oil

Lemon Anchovy Aïoli
1 tsp (5 mL) crushed garlic
1 tsp (5 mL) minced anchovy fillets
½ cup (125 mL) mayonnaise
2 tsp (10 mL) lemon juice
1 tbsp (15 mL) chopped lemon thyme
Salt and freshly ground pepper
2 tbsp (25 mL) whipping cream
1. Spread mustard over the chops and sprinkle with lemon thyme. Marinate for 1 hour. Season with salt and cracked pepper.

2. Preheat oven to 450ºF (230°C).

3. Heat oil in an ovenproof skillet on medium-high heat. Sear chops about 2 minutes per side. Place skillet in oven and bake for 10 to 12 minutes or until chops are just pink inside.

4. Combine garlic, anchovies, mayonnaise, lemon juice and lemon thyme. Season with salt and pepper. Stir in whipping cream. Serve beside the veal chop.
SHARE