Roasted Sweet Potato & Ginger Soup
Winter 2011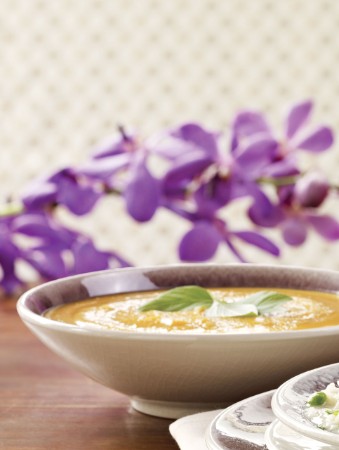 Roasted Sweet Potato & Ginger Soup
Winter 2011
BY: Monda Rosenberg
Sweet potatoes are at the pinnacle of the nutritious vegetable list and this easy blender soup pops with taste without a speck of cream or butter added. It works in the fanciest of soup bowls or in mugs with a breadstick stirrer.
2 tbsp (25 mL) vegetable or olive oil
3 sweet potatoes, about 3 lbs (1.5 kg) total
5 large garlic cloves
2 tbsp (25 mL) finely chopped fresh ginger
½ tsp (5 mL) salt
1 can (284 mL) condensed chicken broth
3 cups (750 mL) water
1 To roast potatoes for a robust flavour, preheat oven to 375°F (190°C).

2 Lightly oil a very large baking pan with shallow sides. Peel potatoes and slice in sixths or eighths lengthwise. They should be similar in size. Peel garlic cloves. Place both on the baking pan and drizzle with oil. Turn each to evenly coat. Spread out as best you can. Bake for 20 minutes, then turn over the potatoes and remove the garlic cloves. Continue baking until potatoes are fork tender and richly browned on the edges, from 10 to 15 more minutes.

3 Place chopped ginger in a blender or food processor fitted with a metal blade. Add roasted garlic, 2 or 3 pieces of roasted potato, salt and half the can of condensed broth. Pulse until puréed, scraping down the side of the bowl with a spatula often between pulsing. Add the remaining potatoes and condensed broth as well as about 1½ cups (375 mL) water if your blender is large enough. Continue pulsing and scraping down the side of the bowl until all is puréed. For a silky texture, turn part of the purée into a coarse sieve set over a bowl. Use the back of a spoon or spatula to push purée through. Repeat with the rest of the purée.

4 Pour the remaining 1½ cups (375 mL) water into a large saucepan set over medium heat. When bubbling, add purée. Stir often until it comes to a boil. Then lower the heat so it barely simmers and cook for about 10 minutes, stirring often, to develop flavour. If thicker than you like, thin with water. If making ahead, store in a sealed jar in the refrigerator up to 3 days or freeze. Reheat in the microwave or over medium-low heat, covered and stirring often. Garnish, if desired, with sliced green onions or fresh herbs such as chives or basil or dill.
SHARE