Roasted Squash Salad with Pomegranate Vinaigrette
Holiday 2014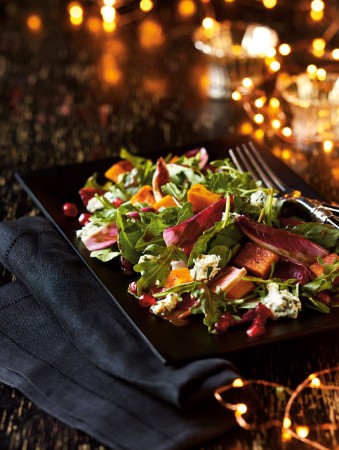 Roasted Squash Salad with Pomegranate Vinaigrette
Holiday 2014
BY: Lucy Waverman
An interesting salad that would be good with a holiday dinner. The blue cheese and squash combination is perfect, creamy sharp cheese and soft and sweet squash.
SQUASH
2 cups (500 g) buttercup squash cut in ¾ inch (2 cm) cubes
2 tbsp (30 mL) olive oil
¼ tsp (1 mL) red pepper flakes
Salt and freshly ground pepper

POMEGRANATE VINAIGRETTE
¼ cup (60 mL) olive oil
1 tsp (5 mL) lemon juice
1 tsp (5 mL) Dijon mustard
1 tbsp (15 mL) pomegranate molasses (see recipe below) or 2 tsp (10 mL) honey
2 tsp (10 mL) chopped parsley
Salt and freshly ground pepper

SALAD
1 bunch watercress, ends trimmed
4 cups (1 L) mixed lettuces

GARNISH
½ cup (125 mL) pomegranate seeds
½ cup (125 mL) crumbled blue cheese
1 Preheat oven to 450°F (230°C). Line a baking sheet with parchment.

2 Toss squash with oil, red pepper flakes and salt and pepper. Place on baking sheet in a single layer.

3 Bake for 10 to 12 minutes, turning once, or until squash is tender and brown. Remove from oven and let cool.

4 Whisk together vinaigrette ingredients in a medium bowl. Combine watercress with lettuces in a large bowl. Toss greens with vinaigrette.

5 Divide salad between 4 plates. Top with roasted squash, pomegranate seeds and blue cheese.

HOW TO MAKE POMEGRANATE MOLASSES
Place 4 cups (1 L) pomegranate juice, 1/3 cup (80 mL) sugar and 1 tbsp (15 mL) lemon juice in a heavy pot and bring to boil, stirring. Once sugar is completely dissolved, turn heat to medium-low and simmer until juice has thickened and reduced to ¾ cup (175 mL), 45 minutes to 1 hour. It should be the consistency of thick syrup. It thickens further as it cools.
Makes about ¾ cup (175 mL)
SHARE