Roasted Side Of Salmon With Mustard & Tarragon Cream Sauce
Hiver 2011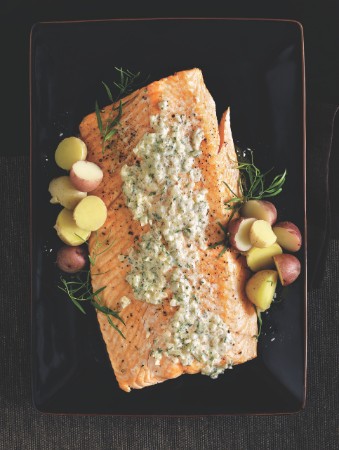 Roasted Side Of Salmon With Mustard & Tarragon Cream Sauce
Hiver 2011
BY: Tonia Wilson-Vuksanovic
When purchasing the side of salmon ask your fishmonger to slice a fresh side for you from a whole fish. This way you'll know it is the freshest they have. Don't forget to have them debone it as well.
3½ to 4 lbs (1.75 to 2 kg) side of salmon, deboned, skin on
Salt and freshly ground pepper
¼ cup (50 mL) unsalted butter
1 cup (250 mL) shallots, chopped fine
½ cup (125 mL) dry white wine
¾ cup (175 mL) 35% cream
3 tbsp (45 mL) fresh tarragon, chopped fine
1 tbsp (15 mL) grainy style mustard
1 Preheat oven to 400°F (200°C). Line baking sheet with parchment paper.

2 Place salmon on baking sheet and season generously with salt and pepper. Roast in oven until just cooked through, about 20 minutes.

3 While salmon is cooking, heat butter in a medium saucepan over medium heat. Add shallots and sauté until translucent, not browned, about 8 minutes. Add white wine and reduce for 3 minutes.

4 Add cream and cook over medium-high heat until reduced to sauce consistency, about 12 minutes. Stir in tarragon and mustard, season with salt and pepper.

5 Serve sauce over the whole piece of salmon or serve alongside.


SHARE