Roasted Salmon with Tomato & Roasted Garlic Farro
Winter 2013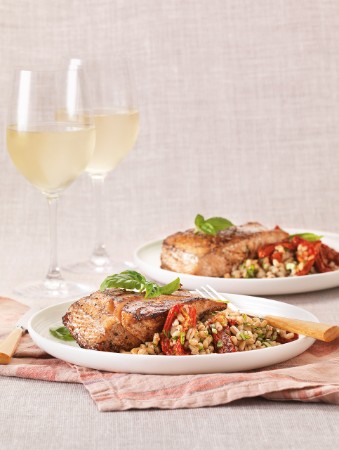 Roasted Salmon with Tomato & Roasted Garlic Farro
Winter 2013
BY: Rosie Schwartz, RD
Here's a dish that will stick to your ribs while providing omega-3 fats and plenty of fibre. Whole grains such as farro not only offer a host of nutrients but they're also linked to easier weight management. The oven-dried tomatoes are a wonderful way to boost the flavour of winter tomatoes as well as their nutritional perks. For example, there's more absorbable lycopene, the red disease fighter, in cooked tomatoes than in raw.
1 lb (500 g) plum tomatoes
2 tsp (10 mL) extra virgin olive oil
Salt and freshly ground pepper
3 large cloves garlic
1 tsp (5 mL) extra virgin olive oil
2 cups (500 mL) water
¾ cup (175 mL) farro
¼ tsp (1 mL) salt
4 salmon fillets, each 6 oz (175 g)
1 tbsp (15 mL) extra virgin olive oil
1 tbsp (15 mL) balsamic vinegar
¼ cup (60 mL) chopped fresh basil (plus leaves for garnish)
1 Preheat oven to 325°F (160°C).

2 Line a baking sheet with parchment paper.

3 Cut tomatoes into wedges (quarters for small tomatoes and sixths for larger ones) and place on the baking sheet, skin-side down. Drizzle 2 tsp (10 mL) olive oil over tomatoes and season with salt and pepper.

4 Bake for about 1½ to 2 hours, or until tomatoes are dried slightly but still soft to touch. Be careful not to overdry. Allow to cool and then dice into 1-inch (2.5-cm) pieces; set aside.

5 To prepare garlic, cut off ¼ inch (5 mm) from the top of the cloves. Drizzle with 1 tsp (5 mL) olive oil and wrap in double thickness aluminum foil. Place in oven alongside tomatoes and bake for about 45 minutes, or until garlic is golden brown. Remove from oven and allow to cool. Squeeze roasted garlic into a small bowl and mash using a fork. Toss with tomatoes, being sure to coat them evenly. These steps can be done a few hours ahead and the mixture refrigerated.

6 Combine water, farro and salt in a medium saucepan and bring to a boil. Stir and reduce the heat to a simmer; cook, uncovered, until the farro is tender, 25 to 30 minutes.

7 Preheat oven to 450°F (230°C).

8 Place salmon in a shallow bowl and coat with 1 tbsp (15 mL) each extra virgin olive oil and balsamic vinegar; season with salt and freshly ground pepper. Allow to marinate for 10 to 15 minutes. Prepare baking sheet by spraying with nonstick vegetable oil spray. Set aside.

9 Place salmon skin-side down on baking sheet and roast in oven for about 12 minutes or for 10 minutes per inch (2.5 cm) thickness.

10 While salmon is roasting, toss tomato-garlic mixture and farro together and keep warm. Before serving, add chopped basil; toss and season to taste with salt and pepper. Serve salmon over farro, garnished with reserved basil leaves.
SHARE