Roasted Salmon with Thai Spices and Dipping Sauce
Temps des Fêtes 2005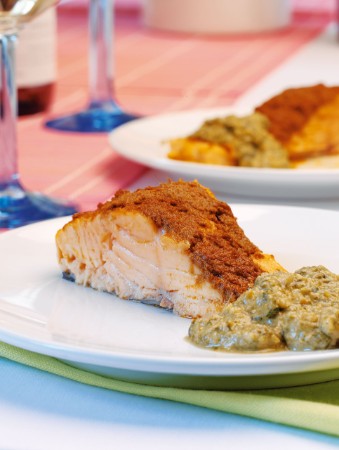 Roasted Salmon with Thai Spices and Dipping Sauce
Temps des Fêtes 2005
BY: Lucy Waverman
A great-tasting salmon. Cut it into pieces when it is cold and serve with the dipping sauce.
Salmon
2 tbsp (25 mL) Thai red curry paste
1 tbsp (15 mL) grated ginger
1 tsp (5 mL) grated lime rind
¼ cup (50 mL) vegetable oil
Salt and freshly ground pepper
3 lb (1.5 kg) salmon, skin on

Sauce
3 tbsp (45 mL) vegetable oil
3 tbsp (45 mL) grated ginger
3 cup (750 mL) chopped red onion
3 tbsp (45 mL) chopped lemon grass
One 400 mL can coconut milk
3 tbsp (45 mL) grated lime rind
1/4 cup (50 mL) lime juice
1 tbsp (15 mL) Asian chili sauce
1 tbsp (15 mL) brown sugar
1/3 cup (75 mL) fish sauce
6 cups (1.5 L) baby spinach
1/3 cup (75 mL) chopped mint
1. Combine curry paste, ginger, lime rind and vegetable oil. Season lightly with salt and pepper.

2. Cut salmon in half and place each half on a baking sheet. Brush with curry mixture. Leave to marinate for 30 minutes.

3. Preheat oven to 450ºF (230ºC).

4. Place salmon in oven and bake for 10 to 12 minutes or until white juices just begin to appear. Remove from oven and let cool.

5. Heat oil in skillet on medium heat to begin making sauce. Add ginger, onion and lemon grass and sauté for 2 minutes or until onions are softened. Pour in coconut milk and stir in lime rind and juice, chili sauce, brown sugar and fish sauce. Bring to a boil and simmer for 5 minutes or until sauce is thickened.

6. Remove skillet from heat, add spinach, toss in sauce until wilted, and place in food processor. Process until puréed. Stir in mint. Taste for seasoning, adding more fish sauce and chili sauce if needed. Chill.

7. Cut salmon into pieces and serve with sauce. Makes 2 cups (500 mL) sauce.
SHARE