Roasted Salmon with Gremolata Bread Crumbs
Early Summer 2009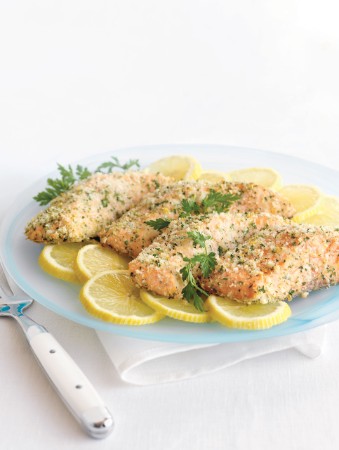 Roasted Salmon with Gremolata Bread Crumbs
Early Summer 2009
BY: Heather Trim
Gremolata is an Italian garnish made up of lemon peel, garlic and parsley. Traditionally it's sprinkled over osso buco (braised veal shanks). However, it's also delicious on fish or vegetables such as green beans or asparagus.
2 slices white sandwich bread, preferably day old
1 tbsp (15 mL) olive oil
1 large garlic clove, minced
Finely grated peel of 1 lemon
2 tbsp (25 mL) finely chopped parsley
4 salmon fillets, 6 to 8 oz (175 to 250 g) each
Salt and pepper
1. Preheat oven to 450°F (230°C).

2. Lightly oil a baking sheet or line with parchment paper. Discard crusts, then tear bread into small pieces. Place in food processor and pulse until coarse crumbs form. Measure out 3⁄4 cup (175 mL). Turn into a bowl and stir with oil, garlic, lemon peel and parsley until mixed.

3. Place salmon, skin-side down, on baking sheet. Season with salt and pepper. Sprinkle with bread crumb mixture, patting gently. Roast in centre of preheated oven until a knife inserted in centre of salmon comes out warm,10 to 12 minutes. Serve with lemon wedges.
SHARE