Roasted Red Potatoes
Hiver 2004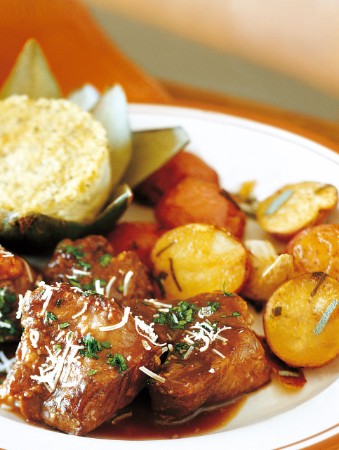 Roasted Red Potatoes
Hiver 2004
BY: Lucy Waverman
Simple and elegant with the lamb.
2 lbs (1 kg) mini red potatoes, cut in half
3 tbsp (45 mL) olive oil
2 tbsp (25 mL) fresh sage leaves, chopped
Salt and freshly ground pepper
2 large garlic cloves, unpeeled, root end removed
1. Preheat oven to 400°F (200°C).
2. In a bowl, toss potatoes with oil, sage, salt and pepper. Place cut-side down in roasting pan and cover pan with foil.
3. Roast covered for 30 minutes, toss and add garlic cloves. Return to oven and roast uncovered for 30 minutes longer or until potatoes are tender and browned and garlic has softened. Squeeze garlic from skin before serving.

Slow-Cooked Lamb
3 lbs (1.5 kg) boned lamb shoulder
1 tbsp (15 mL) chopped fresh rosemary
1 tbsp (15 mL) chopped garlic
1/4 cup (50 mL) olive oil
Salt and freshly ground pepper
1 cup (250 mL) chopped onion
1/2 cup (125 mL) red wine
1 cup (250 mL) beef or chicken stock
3/4 cup (175 mL) grated Parmesan cheese
2 tbsp (25 mL) chopped parsley
1. Cut lamb shoulder into 2-inch (5-cm) pieces. Place in dish and toss with rosemary, garlic and 2 tbsp (25 mL) olive oil. Refrigerate for 24 hours, turning occasionally.
2. Preheat oven to 325°F (160°C).
3. Scrape off the marinade and discard. Season lamb with salt and pepper. Heat remaining 2 tbsp (25 mL) oil in an ovenproof casserole on high heat. Brown lamb in batches about minutes per side or until a good rich brown colour. Remove to plate and reserve.
4. Reduce heat to medium and add onion. Sauté for 1 minute, pour in wine, bring to boil and boil 1 minute. Add stock and stir everything together. Return lamb to casserole, cover and bake for 1 hour and 15 minutes. Remove cover and continue to bake another 45 minutes or until meat is tender and glazed with sauce. If sauce reduces too much add a little water.
5. Remove lamb from sauce. Skim fat from sauce and strain. Return liquid to casserole, along with lamb. Taste sauce for seasoning, adding salt and pepper as needed.
6. Serve lamb on plate with a little sauce and sprinkled with Parmesan cheese and parsley.
SHARE