Roasted Pepper Salad
Autumn 2003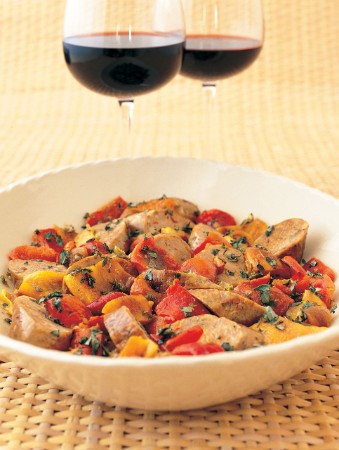 Roasted Pepper Salad
Autumn 2003
BY: Jennifer McLagan
Italian sausages with extra fennel are great in this recipe but you can use any sausage or smoked meat you like. You can also eat it without any meat at all. The colour of the peppers is your choice.
3 roasted peppers
2 tbsp (25 mL) capers, rinsed and chopped
2 tbsp (25 mL) juice from peppers
1/4 cup (50 mL) olive oil
1 clove of garlic, minced
1 tbsp (15 mL) Balsamic vinegar
Freshly ground pepper
2 tbsp (25 mL) chopped fresh oregano
2 grilled Italian sausages
Peel the peppers over a bowl to catch their juice. Remove all the seeds. Cut the peppers into 1-inch (2.5-cm) pieces and place them on a platter. Scatter with the capers.
In a small bowl, whisk together the pepper juice, olive oil, garlic and vinegar. Season with the pepper; the capers should provide enough salt. Stir in the chopped oregano.
Slice the sausages into 1/2-inch (1-cm) diagonal slices and then toss with the peppers. Pour over the dressing and serve.
Serves 3, or 6 as side dish
SHARE