Roasted Pepper Salad with Chicken
Été 2006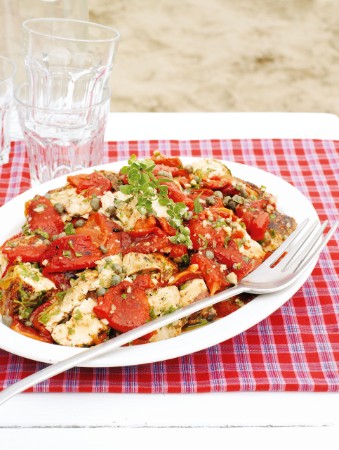 Roasted Pepper Salad with Chicken
Été 2006
BY: Jennifer McLagan
This is a good dish for entertaining on a summer's evening, as it can be made ahead and is delicious at room temperature.
6 sweet peppers
1 cup (250 mL) parsley leaves
¼ cup (50 mL) oregano leaves
1 shallot, peeled and finely chopped
3 cloves garlic, peeled and finely chopped
3 tbsp (45 mL) capers, preferably salt-packed, rinsed
2 tbsp (25 mL) red wine vinegar
¾ cup (175 mL) extra virgin olive oil
Salt and freshly ground pepper
4 bone-in chicken breast halves
1. Preheat the grill.

2. Cut stems off peppers. Place them on the hot grill and cook until peppers' skins are charred, 15 to 20 minutes, turning them frequently with tongs. Place the peppers in a large bowl, cover and leave to cool.

3. In a bowl, mix parsley and oregano leaves then add shallot and garlic. Chop 2 tbsp (25 mL) of the capers and add them to the bowl with red wine vinegar and oil. Whisk together and season with salt and pepper.

4. When the peppers are cool enough to handle, remove skins and seeds over a bowl to catch the juices. Cut the peppers into 1½-inch (4-cm) chunks and place in a bowl. Strain the juice from the peppers, set aside ¼ cup (50 mL) juice, and pour the rest over the peppers. Cover and refrigerate the peppers.

5. Place the chicken breasts in a shallow glass dish. Mix 1/3 cup (75 mL) caper dressing with ¼ cup (50 mL) roasted pepper juice and pour over the chicken. Turn to coat, then cover and refrigerate for 6 to 8 hours.                                                           
6. One hour before cooking, remove the chicken and roasted peppers from the refrigerator.

7. Preheat the grill to high. Then leave 1 burner on high and turn the other burner(s) down to medium-low.

8. Remove the chicken from the marinade, discard the marinade and cook the chicken, covered, on the hottest part of the grill until browned on both sides, about 2 minutes per side. Move the breasts to the cooler part of the grill and cook, covered, skin-side up for 10 minutes. Turn skin side down and continue to cook, covered, for 5 minutes or until the internal temperature in the thickest part of the chicken reads 160ºF (70°C ) on an instant-read thermometer.

9. Transfer the cooked chicken to a plate and cover loosely with aluminum foil and let sit for 10 minutes.

10. Slice the chicken from the bone and cut into 1½-inch (4-cm) chunks. Stir into the peppers with any juices from the chicken. Add the remaining dressing, toss, then arrange on a serving platter. Garnish with remaining whole capers and serve warm or at room temperature.
SHARE