Roasted Parmesan & Lemon Chickpeas
Autumn 2018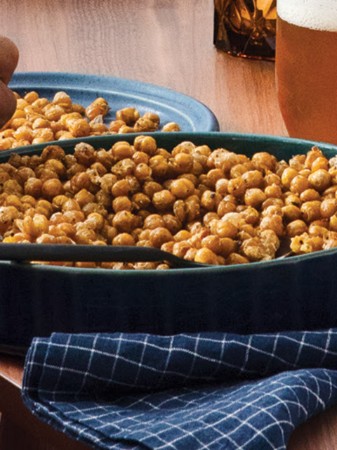 Roasted Parmesan & Lemon Chickpeas
Autumn 2018
BY: Tonia Wilson-Vuksanovic
This is a tasty and easy snack for nibbling on. If you like a touch of heat, add a sprinkle of chili pepper to the pan as well.
2 cans (each 540 mL) chickpeas
3 tbsp (45 mL) olive oil
½ tsp (2 mL) salt
½ tsp (2 mL) freshly ground black pepper
1 tsp (5 mL) fresh thyme, finely chopped
1 tsp (5 mL) lemon zest, finely grated on a rasp (optional)
1 oz (30 g) Parmesan cheese, finely grated on a rasp, about ½ cup (125 mL)
1. Preheat oven to 400°F (200°C).

2. Drain and rinse chickpeas well, shaking off any excess water.

3. Drizzle oil on 13 x 17-inch (33 x 43-cm) rimmed baking sheet. Add chickpeas, salt, pepper, thyme, lemon zest and cheese. Stir well with a wooden spoon to evenly coat chickpeas. Gently shake pan from side to side to evenly distribute.

4. Roast for 30 minutes on middle rack.

5. Carefully take hot sheet from oven and, using a metal spatula, redistribute chickpeas, scraping up any cheese and seasonings.

6. Shake pan again and cook for another 15 to 20 minutes or until chickpeas are golden brown and crispy.

7. Scrape chickpeas and browned bits from pan into a bowl, stir gently and season if necessary.
Serve warm or at room temperature.
SHARE