Roasted Onion and Cheddar Dip
Early Summer 2007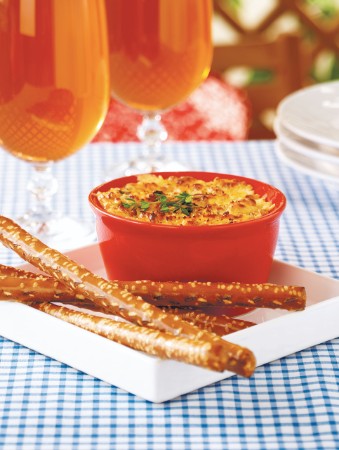 Roasted Onion and Cheddar Dip
Early Summer 2007
BY: Jennifer MacKenzie
Nothing starts off a fun event like a warm dip that everyone will love. The flavour is best if you use a very old Cheddar cheese, aged 2 years or more. Look for thick pretzels (sometimes called pretzel rods) at well-stocked grocery stores, specialty stores or bulk food stores. Thin pretzels are good too, but the thick ones add extra crunch and hold more dip. This dip is quite rich but if you have dip fans coming to dinner, you may want to double it.
1 small onion, finely chopped
2 tbsp (25 mL) cider vinegar or beer
1 tsp (5 mL) butter
¼ tsp (1 mL) freshly ground black pepper
4 oz (125 g) cream cheese, softened
1 cup (250 mL) shredded aged cheddar cheese
½ tsp (2 mL) dry mustard or Dijon
1 tsp (5 mL) chopped fresh thyme, or ¼ tsp (1 mL) dried
Thick pretzels, for dipping
1. Preheat the oven to 450ºF (230ºC) or barbecue to medium-high.

2. Combine onion, vinegar, butter and pepper in a shallow baking pan (for oven) or in a foil pan (for barbecue). Roast, stirring twice, for 15 to 20 minutes or until soft, translucent and starting to brown. Let cool slightly.

3. Mash softened cream cheese in a bowl. Add onion mixture, cheddar cheese, mustard and thyme, stirring until well blended. Pack into an ovenproof ramekin or serving dish or a foil pan. Cover and refrigerate until serving, for up to 2 days.

4. To serve, preheat the oven to 350°F (180°C) or barbecue to medium-high.

5. Heat dip, uncovered, in oven or on grill, for about 15 minutes or until hot and bubbling around edges. Stir and serve with thick pretzels for dipping.
Serves 8 about 1¼ cups (300 mL)
SHARE