Roasted Onion Potato Soup with Crispy Fried Shallots
Holiday 2014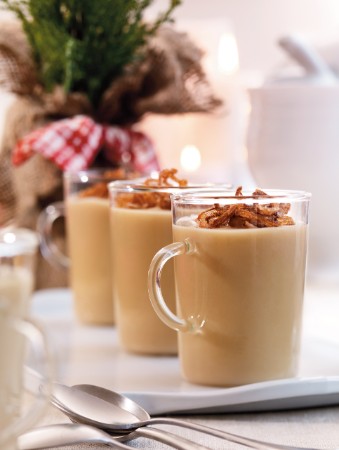 Roasted Onion Potato Soup with Crispy Fried Shallots
Holiday 2014
BY: Jennifer MacKenzie
With a flavour reminiscent of classic French onion soup but a heartier velvety texture, this combination of roasted onions and potatoes will warm up the chilliest of nights. Have the soup steaming and set out when guests arrive to ladle into warmed bowls (warm them in the oven, then place in a towel-lined basket on the table) with the crispy fried shallots to garnish each bowl. The soup tastes even better when made up to two days ahead, so you can have it ready and waiting in the fridge to reheat just before guests arrive.
3 large onions, chopped
6 cloves garlic, cut in half lengthwise
3 tbsp (45 mL) balsamic vinegar
2 tbsp (30 mL) olive oil
Salt and freshly ground pepper
2 cups (500 mL) water
3 cups (750 mL) approx. vegetable or chicken stock, preferably unsalted or reduced-sodium
4 yellow-fleshed potatoes, peeled and diced, about 4 cups (1 L)
1 bay leaf
1 cup (250 mL) shredded old cheddar cheese

CRISPY FRIED SHALLOTS
Vegetable oil
2 shallots or 1 onion, sliced thinly into rings
2 tbsp (30 mL) all-purpose flour or cornstarch
1 Preheat oven to 425°F (220°C).

2 Combine onions and garlic on a large, rimmed baking sheet. Drizzle with vinegar and oil and sprinkle with ½ tsp (2 mL) each of salt and pepper. Roast for about 30 minutes, stirring twice, or until very soft and golden brown.

3 Transfer to a large pot, scraping as much from baking sheet as possible and rinsing with a bit of the water if necessary to loosen brown bits. Pour water and 3 cups (750 mL) stock into pot and stir in potatoes and bay leaf.

4 Cover pot and bring to a boil over high heat. Reduce heat and boil gently, covered, for about 20 minutes or until potatoes are very soft. Discard bay leaf. Use an immersion blender in the pot, or transfer soup to an upright blender in batches as necessary, and purée until smooth.

5 For the garnish, pour about 1 inch (2.5 cm) of oil in a medium saucepan and heat over medium heat until a piece of shallot added to oil sizzles immediately. Separate slices of shallots into rings and toss in a bowl with flour until lightly coated. Shaking off excess flour, add shallots to oil, in batches to avoid crowding, and fry, stirring gently, for about 2 to 3 minutes or until golden and crispy. Using a slotted spoon, remove shallots from oil and place on a baking sheet lined with paper towels to drain. Adjust heat between batches as necessary to avoid burning. Store cooled shallots at room temperature in a bowl covered with foil for up to 1 day.

6 To serve, if soup has been made ahead, reheat over medium heat, stirring often, until steaming. Reduce heat to low and stir in cheese until melted. Add more stock to thin to desired consistency, if necessary. Season to taste with salt and pepper. Serve soup in a large tureen, a slow cooker set on warm, or in a pot, with a ladle and warmed bowls for serving. Set out fried shallots in a bowl for guests to garnish their bowls of soup.
SHARE