Roasted Halibut with a Ragout of Morels, Fava Beans and White Asparagus
Printemps 2005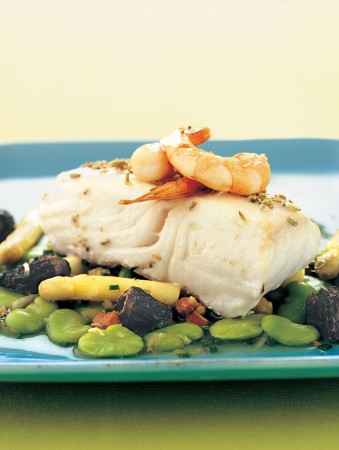 Roasted Halibut with a Ragout of Morels, Fava Beans and White Asparagus
Printemps 2005
BY: Lucy Waverman
Serve this dish with puréed potatoes flavoured with tarragon. 1 cup (250 mL) fava beans equals about 1 lb (500 g) in the pod. To shell the beans, remove from pod and blanch beans for 30 seconds in boiling water. Refresh in cold water and peel off tough outer shell.
Ragout
12 stalks white asparagus
2 tbsp (25 mL) olive oil
1 oz (30 g) chopped pancetta
¼ cup (50 mL) chopped shallots
8 oz (250 g) morels
1 cup (250 mL) shelled fava beans
1 cup (250 mL) fish or chicken stock
2 tbsp (25 mL) unsalted butter, cut into 4 pieces
2 tbsp (25 mL) chopped chives

Halibut
Four 6 oz (175 g) halibut fillets
Salt and freshly ground pepper
2 tsp (10 mL) chopped fennel seeds
2 tbsp (25 mL) olive oil
8 large shrimps, peeled
1. Peel asparagus and chop into 2-inch (5-cm) lengths. Bring a pan of water to boil and blanch asparagus for 1 minute. (asparagus will not be fully cooked). Strain and refresh with cold water.

2. Heat oil in skillet on medium heat. Add pancetta and shallots and sauté for 1 minute. Add morels and asparagus and sauté until asparagus is crisp-tender, about 3 minutes. Stir in fava beans and chicken stock. Bring to boil, remove from heat and whisk in butter. Sprinkle in chives. Reheat when needed.

3. Preheat oven to 450ºF (230ºC).

4. Season halibut with salt, pepper and fennel. Place in baking dish and sprinkle with olive oil. Bake for 6 minutes, add shrimp, and bake 6 minutes longer or until juices begin to appear. Place ragout on plates and top with halibut and shrimps.
SHARE