Roasted Gremolata Clams with Saffron Aïoli
Holiday 2013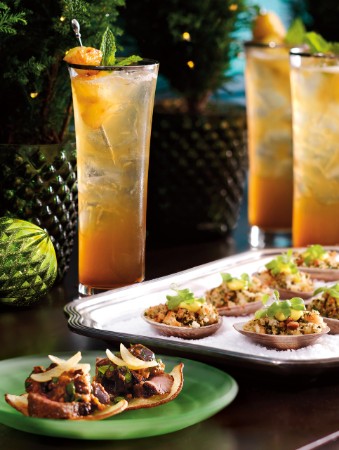 Roasted Gremolata Clams with Saffron Aïoli
Holiday 2013
BY: Christopher St. Onge
The beauty of these roasted clams is in the crunch of buttery crumbs and the homemade mayonnaise topper. If you've never made mayonnaise yourself, don't be put off­ by stories of oily disasters; truth is, an immersion blender is a limp mayonnaise's best friend. If you find your mayo hasn't emulsified or thickened properly, give it a quick whiz with your immersion blender and you're golden.
SAFFRON AÏOLI
1 tbsp (15 mL) lemon juice
Pinch saffon
1 clove garlic
Pinch of salt
1 egg yolk
1 tbsp (15 mL) water
¼ cup (60 mL) extra virgin olive oil
¼ cup (60 mL) grape-seed or canola oil

GREMOLATA CLAMS
Coarse salt to bake and serve
24 clams in their shells, each about 2 inches (5 cm) across
¼ cup (60 mL) finely chopped parsley
3 cloves garlic, finely chopped
1 tbsp (15 mL) finely grated lemon zest
½ cup (125 mL) coarse bread crumbs
¼ tsp (1 mL) salt
Freshly ground pepper to taste
¼ cup (60 mL) melted butter
Sprouts or green onion to garnish
1 To prepare aïoli, combine lemon juice and sa­ron in a small bowl and set aside. Roughly chop garlic, sprinkle with salt, and mash to a cream with the side of a large chef's knife.

2 In a separate medium bowl, whisk egg yolk with 1 tbsp (15 mL) water and the creamed garlic. Whisking constantly, slowly drizzle in oils. Add lemon juice mixture and whisk to combine. Cover and refrigerate until ready to serve (aïoli will keep for up to 5 days in refrigerator).

3 For the clams, preheat oven to 400°F (200°C).

4 Line a cookie sheet with a layer of coarse salt, about ½ inch (1 cm) thick. Shuck clams with a sturdy paring knife or oyster shucker. Discard top shell, and loosen clam from bottom shell; drain any excess liquid. Arrange on cookie sheet.

5 In a medium bowl, combine parsley, garlic, lemon zest, bread crumbs, salt and pepper to taste. Drizzle with 1 tbsp (15 mL) butter. Use fingers to ensure all crumbs are moistened. Divide crumbs between clams and drizzle each with a scant ¼ tsp (1 mL) remaining butter. Bake for 14 to 16 minutes or until crumbs are golden and clams are cooked. Top each with a small dollop of the sa­ron aïoli, then sprouts, and serve hot.
SHARE