Roasted Flank Steak with Parmesan Panko Stuffing
Autumn 2010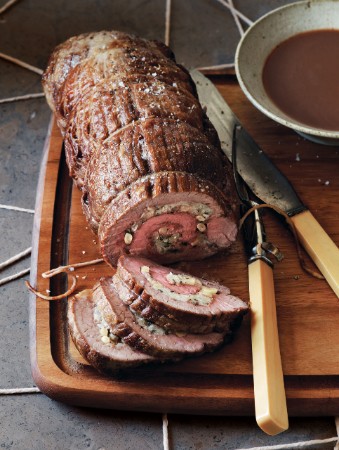 Roasted Flank Steak with Parmesan Panko Stuffing
Autumn 2010
BY: Marilyn Bentz-Crowley
This rolled steak is surprisingly easy to prepare, especially if your butcher butterflies the steak lengthwise.
STEAK
1 large flank steak, about 1½ lbs (750 g)
3 tbsp (45 mL) olive oil, divided
½ cup (125 mL) finely chopped onion
1 large clove garlic, minced
1 cup (250 mL) panko bread crumbs
or 1½ cups (375 mL) coarse fresh bread crumbs
½ cup (125 mL) freshly grated Parmesan cheese
¼ cup (50 mL) pine nuts
2 tbsp (25 mL) chopped fresh thyme or basil or a mixture
½ tsp (2 mL) salt
¼ tsp (1 mL) freshly ground black pepper
Kitchen twine
¼ cup (50 mL) all-purpose flour

SAUCE
2 tbsp (25 mL) all-purpose flour
1½ to 2 cups (375 to 500 mL) beef broth or stock
½ cup (125 mL) dry red wine
1. Butterfly steak lengthwise using a horizontal cut (do not cut all the way through to opposite side). Open up on butcher paper; cover with plastic wrap and whack with smooth side of a meat pounder (or bottom of a heavy skillet) until about ¾ inch (2 cm) thick.

2. Over medium heat, heat 1 tbsp (15 mL) oil until shimmering hot in a medium frying pan. Add onion and garlic; sauté 3 minutes or until onion has softened.

3. Meanwhile toss panko bread crumbs with Parmesan, pine nuts, herbs, salt and pepper in a bowl. Add onion mixture; toss until well combined. Set aside.

4. If roasting right away, preheat oven to 375°F (190°F).

5. Lay pounded steak so grain of meat goes left to right in front of you. Leaving 2 inches (5 cm) uncoated on far long side, pat filling over meat. Beginning near you, tightly roll up the steak forming a neat roll.

6. Cut 5 pieces of twine, each about 20 inches (50 cm) long. Beginning in the middle, tie roast, spacing ties evenly apart. Trim twine ends; discard. Neaten ends of roll by tucking in any spilled filling or ragged bits of steak. (If making ahead, cover and refrigerate for up to a day. Add 15 minutes to roasting time.)

7. Over medium to medium-high heat, heat 2 tbsp (25 mL) oil until shimmering hot in a large heavy frying pan capable of going into the oven (cast iron is ideal). Meanwhile, roll tied steak in flour until heavily coated; discard flour that does not cling to meat.

8. Add steak to pan, turning for 8 to 10 minutes in total until lightly browned on all sides. Turn roast seam-side down in pan. Place in oven for 30 minutes or until internal temperature is 130°F (55°C). Remove steak to cutting board, cover meat with foil and let rest 10 to 15 minutes (this completes the cooking).

9. For sauce, add flour to hot pan; stir over medium heat for 1 minute or until absorbed. Pour in 1½ cups (375 mL) broth and the wine; gently whisking, bring to a boil. Sauce should be nicely thickened; if too thick, add more broth as needed. Taste sauce; add seasonings as needed. Strain into a warmed container.

10. Slice steak widthwise into ½-inch-thick (1-cm) slices, removing strings as encountered. Serve slices napped with a bit of sauce; garnish with additional chopped fresh herbs. Pass remaining sauce at table. Serve with roasted fingerling potatoes and steamed cauliflower florets tossed with bits of roasted red pepper.


SHARE