Roasted Fig, Radicchio & Pine Nut Cocktail
Holiday 2008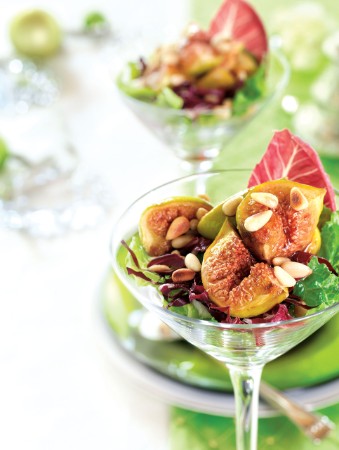 Roasted Fig, Radicchio & Pine Nut Cocktail
Holiday 2008
BY: Jennifer MacKenzie
Sweet figs and slightly bitter radicchio make a complementary combination of flavours in this warm salad. Stemmed glasses make for an interesting presentation but small plates or bowls would work as well. If you're not fond of radicchio, substitute torn mâche rosettes or mesclun mix.
9 or 12 fresh figs
¼ cup (50 mL) port or dry Marsala
2 tbsp (25 mL) olive oil
1 tbsp (15 mL) balsamic vinegar
Salt and freshly ground pepper
½ cup (125 mL) finely shredded radicchio
2 tbsp (25 mL) pine nuts
3 leaves of hearts of romaine lettuce
1. Preheat oven to 425ºF (220ºC).

2. Trim stems off figs and cut each into 4 or 6 wedges. Place in a baking dish and drizzle with port, olive oil and vinegar and season with salt and pepper. Toss gently to coat and turn cut side up. Roast for 10 to 15 minutes or until softened and starting to brown. Sprinkle with radicchio and let stand for at least 5 minutes or until wilted and cooled slightly or let cool to room temperature.

3. Meanwhile, heat a small dry skillet over medium heat. Toast pine nuts for about 2 minutes or until golden brown. Season with salt.

4. Tear romaine into small pieces and place in bottom of martini or other stemmed glasses. Spoon warm figs and radicchio on top, drizzling with liquid left in dish. Season with salt and pepper and sprinkle with pine nuts.
SHARE