Roasted Duck Breast with Beets, Mint and Oyster Mushrooms
Summer 2005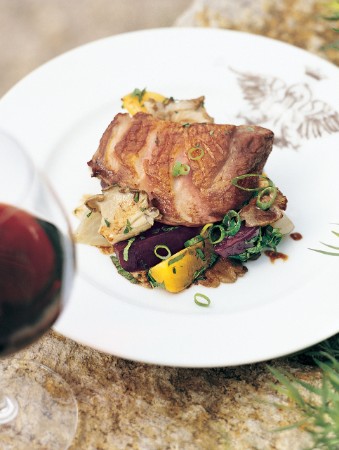 Roasted Duck Breast with Beets, Mint and Oyster Mushrooms
Summer 2005
BY: Lucy Waverman
Candy-striped or orange baby beets are a delightful colour on the plate if you can find them. If the duck breasts are very large then do 2 or 3, slicing and dividing them amongst the 4 plates. If baby beets are unavailable use 2 large ones and cut into quarters or eighths.
12 baby beets
2 tbsp (25 mL) sugar
12 mint leaves
¼ cup (50 mL) extra-virgin olive oil
2 tbsp (25 mL) balsamic vinegar
2 tbsp (25 mL) butter
8 oz (250 g) oyster mushrooms
Sea salt and freshly ground black pepper
4 duck breasts, about 8 oz (250 g) each
1. Place the beets and sugar in a pot and cover with water. Simmer until tender (the time will vary according to the size of the beets, anywhere from 20 to 50 minutes). Drain.

2. Rub off beet skins and cut into halves. Place in a bowl.

3. Tear mint leaves and add to beets. Add the oil and balsamic and toss.

4. Heat butter in a pan over high heat and add mushrooms. Sauté for 2 minutes.

5. Add warm mushrooms to the bowl with the beets and mix. Season with sea salt and black pepper. Keep warm or leave at room temperature, depending on your preference.

6. Remove any fat from duck breasts and score skin at 1-inch (2.5-cm) intervals. Heat a heavy-bottomed pan over medium heat and add the duck breasts fat-side down. Cook for about 5 minutes or until skin is crisp and fat is rendered. Discard fat and turn over. Cook for about 3 minutes on the other side or until medium rare.

7. Let the duck rest for a few minutes in a warm place.

8. Divide the beet and mushroom salad amongst 4 plates. Slice the duck breast and place on top.


SHARE