Roasted Cherry Tomato, Corn & Israeli Couscous Salad
Début de l'été 2013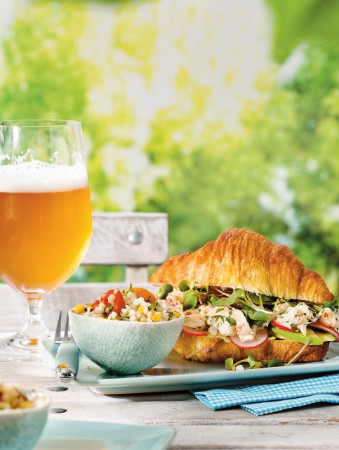 Roasted Cherry Tomato, Corn & Israeli Couscous Salad
Début de l'été 2013
BY: Heather Trim
Like traditional couscous, Israeli couscous makes a perfect salad for lunch as it doesn't get mushy and will keep refrigerated for a couple of days. The difference between the two: Israeli couscous needs to be cooked and the grains are pearl-like in size with a bit more texture.
12 oz (375 g) container multicoloured cherry tomatoes, cut in half, about 1½ cups (375 mL)
¼ cup (60 mL) corn, fresh or frozen
3 tbsp (45 mL) olive oil
½ tsp (2 mL) dried oregano leaves
1¼ cups (310 mL) water
½ tsp (2 mL) salt
¾ cup (175 mL) Israeli couscous
1 lemon
¼ tsp (1 mL) each salt and pepper
¼ cup (60 mL) each coarsely chopped mint and thinly snipped chives
1 Preheat oven to 425°F (220°C).

2 Place tomatoes and corn on baking sheet. Drizzle with 2 tsp (10 mL) olive oil then sprinkle with oregano. Roast just until tomatoes begin to soften, 3 to 5 minutes. Meanwhile bring water and salt to a boil in a medium saucepan. Add couscous, reduce heat and simmer covered until water is absorbed, 8 to 10 minutes.

3 Finely grate 1 tsp (5 mL) peel from lemon into a small bowl. Then squeeze out 3 tbsp (45 mL) juice. Whisk in remaining oil, salt and pepper.

4 Place cooked couscous in a bowl. Add most of the lemon dressing to couscous while it's still hot. Stir couscous, letting it cool in dressing. Once cool, stir in tomato mixture and fresh herbs. Taste and add remaining lemon dressing if needed.
SHARE