Roasted Cauliflower with Crispy Chickpeas, Spiced Tomato Sauce & Feta
Autumn 2019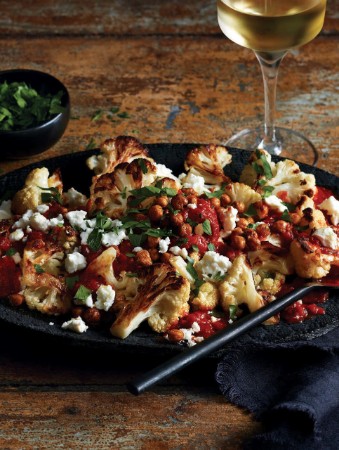 Roasted Cauliflower with Crispy Chickpeas, Spiced Tomato Sauce & Feta
Autumn 2019
BY: Eric Vellend
Charred cauliflower, crunchy chickpeas, cinnamon- scented tomato sauce and tangy feta come together in a hearty side dish that could double as a vegetarian main. The sauce, which is adapted from The River Cafe Cook Book 2 by Rose Gray and Ruth Rogers ( Random House UK, 1997), is also excellent with eggplant and lamb. If you don't have a spice mill or mortar and pestle, grind the coriander seeds in a pepper mill.
SPICED TOMATO SAUCE
1 can (796 mL) whole plum tomatoes, preferably San Marzano
2 tbsp (30 mL) extra virgin olive oil
3 cloves garlic, thinly sliced
1 tsp (5 mL) coriander seeds, coarsely ground
¼ tsp (1 mL) dried chili flakes
3-inch (8-cm) cinnamon stick
Salt and freshly ground pepper to taste
Sugar to taste
1 can (540 mL) chickpeas
6 tbsp (90 mL) extra virgin olive oil, divided, plus more for drizzling
1 ½ tsp (7 mL) ground cumin
Salt and freshly ground pepper to taste
1 large head cauliflower, cut into large florets, 10 to 12 cups (2.5 to 3 L)
4 oz (115 g) feta, crumbled
2 tbsp (30 mL) chopped flat-leaf parsley
1 For the tomato sauce, empty the tomato can into a mixing bowl. Discard any stray bits of skin and unripe tomato. Gently crush tomatoes with your hands. Set aside.
2 In a large saucepan, heat olive oil and garlic over medium heat. When the garlic starts to sizzle, add coriander, chilli flakes and cinnamon. Cook, stirring until garlic is just starting to brown, about 2 minutes. Carefully add tomatoes and lightly season with salt and pepper. Raise heat to high. When it comes to a boil, reduce heat to maintain a gentle simmer. Cook, stirring occasionally, until sauce is very thick, 30 to 35 minutes. Taste for seasonings and add sugar if it's too tart. Discard cinnamon stick. (Sauce can be cooled, transferred to an airtight container, and refrigerated for up to 5 days.)
3 Place a heavy-duty rimmed baking sheet on the bottom rack of the oven and preheat to 450°F (230°F).
4 Pour chickpeas into a sieve. Rinse under cold running water and drain. Transfer to a baking sheet lined with a paper towel. Thoroughly dry chickpeas and discard paper towel. Drizzle with 2 tbsp (30 mL) olive oil and toss to coat. Sprinkle with cumin and season with salt and pepper. Toss again.
5 In a large mixing bowl, toss cauliflower with the remaining 4 tbsp (60 mL) oil. Season with salt and pepper and toss again.
6 Place chickpeas on the middle rack of the oven. Bake, shaking pan occasionally, until chickpeas are brown and crisp, but still creamy on the inside, about 25 minutes.
7 When you put the chickpeas in, remove preheated baking sheet. Add cauliflower to the hot sheet and arrange evenly. Return tray to bottom rack and roast until nicely browned on bottoms, 18 to 20 minutes. Flip cauliflower and roast until cauliflower is tender, another 5 to 7 minutes.
8 While cauliflower and chickpeas are roasting, reheat sauce until hot. When roasting is done, arrange cauliflower on a warmed serving platter. Spoon sauce over cauliflower—you may not need it all. Sprinkle with chickpeas and feta. Drizzle with more olive oil, if desired. Sprinkle with parsley.


SHARE