Roasted Cauliflower Wedges with Figs, Olives and Pine Nuts
Autumn 2017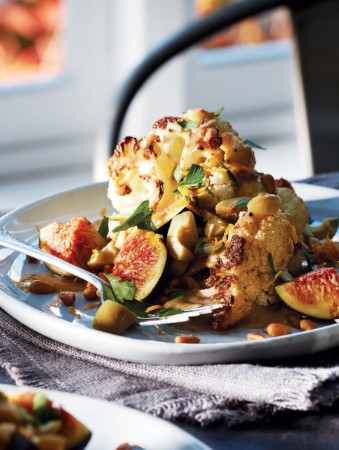 Roasted Cauliflower Wedges with Figs, Olives and Pine Nuts
Autumn 2017
BY: Eric Vellend
Roasting cauliflower wedges in a blazingly hot oven is a method developed by J. Kenji López-Alt in his excellent book The Food Lab (W.W. Norton & Company, Inc., 2015). Here they're punched up with sweet figs, briny olives and a sharp vinaigrette. To toast pine nuts, cook them in a small frying pan over medium heat, stirring often, for 3 to 5 minutes.
SHERRY VINAIGRETTE
¼ tsp (1 mL) finely grated garlic
1½ tsp (7 mL) Dijon mustard
3 tbsp (45 mL) sherry vinegar
½ cup (125 mL) extra virgin olive oil
Salt and freshly ground pepper to taste
1 large head cauliflower, about 3 lbs (1.5 kg) untrimmed
3 tbsp (45 mL) extra virgin olive oil
Salt and freshly ground pepper to taste
3 large ripe fresh figs, cut into small chunks
12 pitted green olives, chopped
3 tbsp (45 mL) pine nuts, toasted
2 tbsp (30 mL) chopped flat-leaf parsley
1 orange
1. For the sherry vinaigrette, place garlic and Dijon in a mixing bowl. Whisk in vinegar. Slowly whisk in oil to form emulsified dressing. Season with salt and pepper. Transfer to an airtight container. (Dressing will keep in fridge up to 5 days. Shake before using.)

2. Place a heavy-duty rimmed baking sheet on the middle rack in the oven and preheat to 500°F (260°F). Put the range hood fan on high.

3. Trim and discard cauliflower leaves. Carefully cut cauliflower in half, making sure to run evenly through the core. Cut each half into 4 even wedges, starting at the core for each cut. Place on a baking sheet. Brush with olive oil and season generously with salt and pepper.

4. When the oven is ready, remove the heated baking tray. Transfer cauliflower wedges to tray. Roast until tender and nicely browned, about 10 minutes per side. (Use a wide spatula and tongs to carefully flip them.)

5. Arrange the 6 nicest wedges on 6 salad plates. (Save the other 2 for another use.) Drizzle cauliflower generously with dressing. Sprinkle figs, olives, pine nuts and parsley over cauliflower. Using a rasp, finely grate a little orange zest over each plate.
SHARE