Roasted Broccoli with Cipollini Onions
Autumn 2010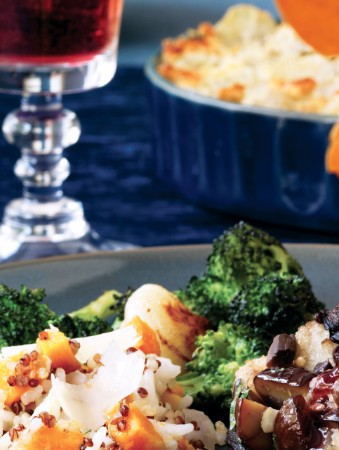 Roasted Broccoli with Cipollini Onions
Autumn 2010
BY: Lucy Waverman
Roasting broccoli brings out the succulent taste. If cipollini onions are unavailable you can use pearl but they are not quite as sweet.
12 cipollini onions
1 bunch broccoli, cut into large florets, stems peeled and thickly sliced
2 tbsp (25 mL) olive oil
Salt and freshly ground pepper
1. Preheat oven to 450°F (230°C)

2. Bring a pot of water to a boil. Add cipollini onions and blanch for 2 minutes. Remove with a slotted spoon. Peel and trim root end. Add broccoli to pot and blanch for 1 minute. Drain and refresh with cold water.

3. Toss broccoli and onions with olive oil and salt and pepper and place in a single layer on a baking sheet. Roast for 10 to 15 minutes, turning once, or until vegetables are tender and browned.


SHARE