Roasted Brined Turkey
Holiday 2019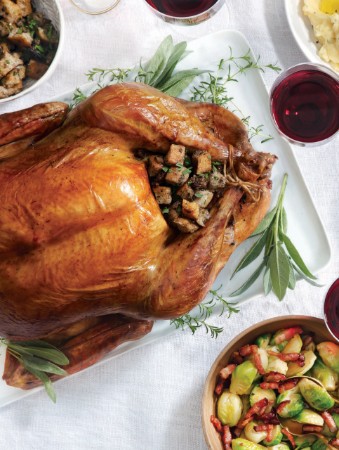 Roasted Brined Turkey
Holiday 2019
BY: Monda Rosenberg
When Chef Ryan roasts turkey, he does not cover it because he does not want to steam it. He bastes it often with pan juices, but does not baste in the last hour to ensure a crispy skin.
16-lb (7.3-kg) Spiced Brined Turkey
Savoury Sausage Stuffing
Olive oil
1 Position oven rack in bottom third of oven and preheat to 425 F (220 C).
2 Bring turkey to room temperature before stuffing. Lift skin flap at the neck and loosely fill the cavity with stuffing. Bring flap down and skewer with toothpicks to hold in place. Then loosely fill body cavity with stuffing. Skewer the cavity closed. Bring legs together; tie or truss with kitchen twine if you like.
3 Any extra stuffing can be placed in a baking dish, drizzled with a little chicken broth, then covered and baked with the turkey, if there's room, for 1 hour. Or refrigerate and bake within 2 days.
4 Place turkey, breast-side up, on a rack in a shallow roasting pan. Tuck wings under the body. Brush all over with oil. Roast, uncovered, at 425 F (220 C) for 30 minutes. Do not open the oven during this time. Then turn oven down to 325 F (160 C) and baste the bird with pan juices. Continue roasting, basting every half hour with pan juices and rotating the pan, until skin is a beautiful mahogany colour and an instant-read meat thermometer inserted in the thickest part of the inner thigh reads 180 F (82 C). For crispy skin, do not baste during the last hour. Count on 18 to 20 minutes per lb (455 g) and check the thigh temperature often near the end of the cooking time. A 16-lb (7.3-kg) turkey should take about 4 ½ hours.
5 Remove to a carving board and loosely tent with a large piece of foil. Let rest 20 minutes before carving.
SAVOURY SAUSAGE STUFFING
Chef Ryan stirs fresh sage and parsley into his stuffing for a herbaceous flavour that comes through in the final product. Before stuffing the bird, he rubs the dressing between his hands to create a more homogeneous texture. He suggests making this a day or two before putting stuffing into the bird to cut down on last- minute work.
1 loaf day-old white or whole wheat bread, about 1 ½ lbs (680 g)
1 lb (455 g) farmer's sausage
3 tbsp (45 mL) canola oil
3 cups (750 mL) finely chopped onion
2 tbsp (30 mL) dried-leaf savory
1 tbsp (15 mL) allspice
1 cup (250 mL) unsalted butter, cubed
1 ½ cups (375 mL) finely chopped fresh sage
1 cup (250 mL) chopped Italian parsley
1 Cut bread into ½-inch (1-cm) chunks. You should have about 14 cups (3.5 L). To dry bread, spread out over large baking sheets and leave at room temperature up to 2 days. Stir occasionally.
2 Slice sausage casings with a sharp knife and turn meat into a bowl. Heat oil in a large skillet over medium heat. Add sausage and sauté, breaking meat into small pieces with a wooden spatula. When thoroughly cooked, after about 10 minutes, remove to a bowl, leaving all the fat in the pan.
3 Reduce heat to medium-low and add onions. (If not using a brined bird, sprinkle onions with ½ tsp/1 mL salt. Don't add salt if using a brined turkey.) Cook for 10 minutes, stirring often. Sprinkle with savory and allspice. Continue sautéing until onion is soft, about 5 more minutes.
4 Add butter and stir in. Sprinkle with fresh sage and parsley. Continue cooking, stirring often, for 5 minutes. Remove from heat and stir in sausage. Turn mixture over dried bread in a large bowl. Mix well and then rub mixture between your hands to create a more homogenous texture. Cool to room temperature before putting stuffing into the turkey. If making ahead, cover and refrigerate up to 2 days. Bring to room temperature before stuffing the bird.
SHARE