Roasted Black Cod with Warm Tomato Vinaigrette on Seared Rapini
Autumn 2013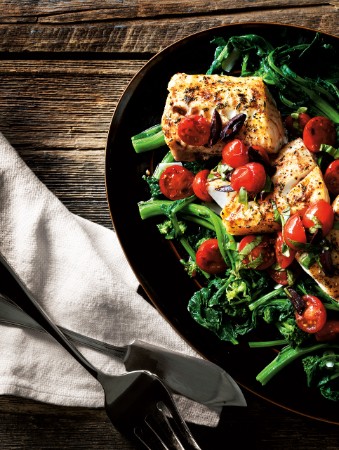 Roasted Black Cod with Warm Tomato Vinaigrette on Seared Rapini
Autumn 2013
BY: Heather Trim
Sustainable black cod is caught in the cold waters off British Columbia and Alaska. A mild-tasting, large-flaked fish that adapts well to so many flavours, it's also known as sable fish. Here we've given it a Mediterranean spin with cherry tomatoes, olives and fresh basil. Serve it with baby potatoes, which can be roasted at the same time as the fish. Other fish that would work well include Pacific cod, U.S. farm-raised catfish and, from Ontario, Kolapore Springs trout.
1 fillet (1½ lb/750 g) black cod or 4 individual pieces, about 6 oz (175 g) each
Salt, pepper and sweet smoked paprika
1 tsp (5 mL) fresh thyme leaves
¼ cup (60 mL) olive oil
¼ tsp (1 mL) chili flakes
1 cup (250 mL) cherry tomatoes, halved
2 tbsp (30 mL) slivered pitted niçoise or Kalamata olives
2 tsp (10 mL) balsamic vinegar
2 tbsp (30 mL) slivered basil
1 large bunch rapini
1 large clove garlic, thinly sliced
⅓ cup (80 mL) water
1 Preheat oven to 400°F (200°C).

2 Line a baking sheet with parchment paper. Place fish on parchment and season with salt, pepper and paprika. Sprinkle with thyme leaves. Drizzle with 1 tsp (5 mL) oil. Roast in preheated oven, until a knife inserted in centre of fish is hot, 18 to 20 minutes (cooking time will be reduced if using individual pieces).

3 Meanwhile, heat 2 tbsp (30 mL) oil in a medium nonstick frying pan over medium-high heat. Add chili flakes and tomatoes. Cook, stirring, just until tomatoes begin to shrivel. Add olives and balsamic vinegar. Stir until olives are hot. Turn off heat if fish is not yet cooked. Just before serving, reheat tomato mixture and stir in basil.

4 While fish is cooking, trim tough ends from rapini and set aside. Heat remaining oil in a large frying pan over medium heat. Add garlic and cook until golden. Add rapini and ⅓ cup (80 mL) water. Simmer, covered, stirring halfway through, until rapini is more tender, about 5 minutes. Increase heat and sauté, uncovered, a few minutes until any water remaining evaporates.Season with salt and pepper.

5 To serve, divide rapini between 4 dinner plates. Divide fish into 4 portions, leaving skin on tray. Place fish on rapini, then spoon tomato mixture overtop fish.
SHARE