Roasted Black Bass with Carrot Sauce
Temps des Fêtes 2015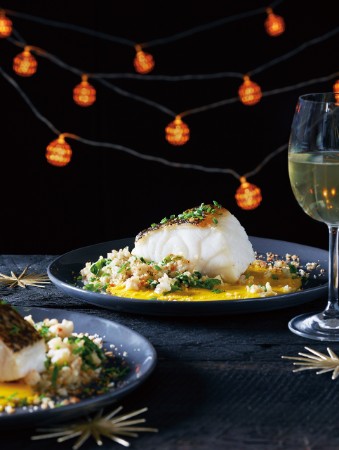 Roasted Black Bass with Carrot Sauce
Temps des Fêtes 2015
BY: Lucy Waverman
When I was in Spain, chefs were increasing the use of vegetables to star in dishes rather than being the background. This recipe illustrates the trend. Black bass is a thick fish that comes from South Carolina. It is perfect for this dish but often hard to find. Here are some substitutes that you can cook in the same way: Mediterranean sea bass, striped bass, porgy and, in a pinch, halibut. If you use halibut, which is a thicker fish, bake in the oven for 10 minutes after crisping the skin.
CARROT SAUCE
1/4 cup (60 mL) butter
1 lb (500 g) carrots, peeled and cut in 2 inch (5 cm) pieces
1/2 cup (125 mL) coarsely chopped onion
1 tsp (5 mL) coriander seeds, cracked
1/2 tsp (2 mL) turmeric
½ tsp (2 mL) ground ginger
4 tsp (20 mL) orange juice
2 cups (500 mL) chicken or vegetable stock
1/4 cup (60 mL) whipping cream
Salt and freshly ground pepper

BASS
8 fillets black bass, each 6 oz (175 g), skin on
Salt and freshly ground pepper
1/4 cup (60 mL) olive oil

GARNISH
Maldon or other flaky salt
1/4 cup (60 mL) chopped chives
1. Heat butter in sauté pan or skillet on medium heat and add carrots and onion. Sauté for 3 to 4 minutes or until vegetables begin to soften. Stir in coriander, turmeric and ginger. Add orange juice and stock and bring to boil. Cover pan, reduce heat and simmer until carrots are soft, about 15 minutes. With a stick blender, purée sauce and add cream. It should be thick enough to coat the back of a spoon. If sauce is too thick, add a little more stock. Season with salt and pepper. Reheat when needed.

2. Preheat oven to 450°F (230°C).

3. Pat bass skin dry with paper towel, then season with salt and pepper. Preheat a non-stick skillet over high heat then add bass, in batches, skin-side down. Sear until skin is well browned, 3 to 4 minutes. Remove from heat and flip over onto an oiled baking sheet so bass is skin-side up. Bake until bass is still slightly undercooked, about 5 minutes, depending on thickness of the fillet. Bass will continue to cook on baking sheet as you prepare plates.

4. Spoon a pool of sauce onto a serving plate and add the bass, skin-side up. Sprinkle with Maldon salt to finish.


SHARE