Roasted Beet Salad with Pumpkin Seeds
Autumn 2007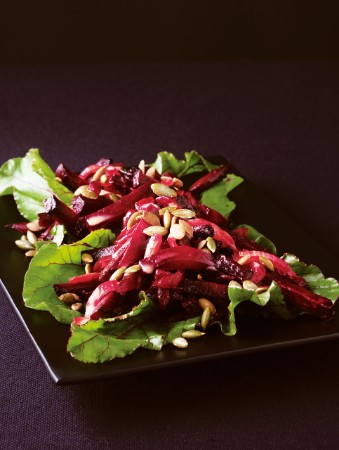 Roasted Beet Salad with Pumpkin Seeds
Autumn 2007
BY: Marilyn Bentz-Crowley
Honey-lemon dressing enhances the natural sweetness of tender-crisp beets while the seeds add contrast and earthy flavour. This salad can be a nice light appetizer, interesting side-salad or beautiful offering at a potluck.
2 lbs (1 kg) fresh whole beets
¼ large Spanish or sweet onion
2 tbsp (25 mL) olive oil
1 tbsp (15 mL) liquid honey
1 tsp (5 mL) Dijon mustard
2 tbsp (25 mL) freshly squeezed lemon juice
Generous pinch of salt
Baby spinach, optional
¼ cup (50 mL) green pumpkin seeds, toasted


1. Preheat the oven to 450°F (230°C).

2. Peel beets; cut into batons about 3-inches (8-cm) long and ¼-inch (5-mm) thick. Set aside beet greens.Toss beets and onion with olive oil; place on baking tray with sides. Roast for 20 to 25 minutes, stirring occasionally, or until onion is brown tipped. Cool to room temperature.

3. Stir honey with mustard in a medium bowl until combined; slowly whisk in lemon juice and salt. Add beets and onions, including any liquid; gently toss to coat. (If making ahead, cover and refrigerate salad for up to 2 days; bring to room temperature before serving.)

4. Serve on a bed of tender beet greens or baby spinach generously scattered with pumpkin seeds.
SHARE