Roasted Beef Tenderloin with Caramelized Shallots and Red Wine Sauce
Autumn 2006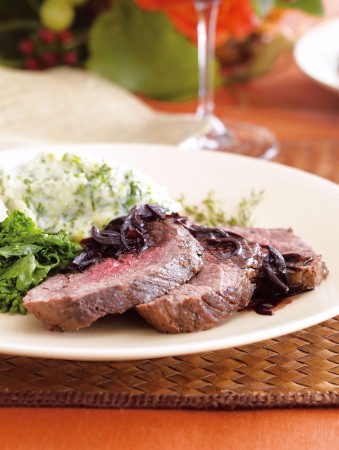 Roasted Beef Tenderloin with Caramelized Shallots and Red Wine Sauce
Autumn 2006
BY: Jennifer McLagan
A simple sophisticated main course with a delicious sauce that is made while the beef rests.
One 2½ to 3 lb (1.25 to 1. 5 kg) centre-cut piece
beef tenderloin at room temperature
1 tbsp (15 mL) extra virgin olive oil
Salt and freshly ground pepper
2 tbsp (25 mL) unsalted butter
4 shallots, peeled and thinly sliced
1 sprig fresh thyme
1 cup (250 mL) dry red wine
1 cup (250 mL) beef stock
1. Preheat the oven to 450ºF (230ºC).

2. Brush the tenderloin with the oil and place in a roasting pan lined with aluminum foil. Season the beef with salt and pepper.

3. Over medium heat, melt the butter in a frying pan. When hot, add the shallots, thyme sprig and pinch of salt. Cook, stirring over medium heat until the shallots soften and begin to caramelize, 10 to 15 minutes.

4. While the shallots are cooking, place the beef in the oven and roast for 25 minutes for rare and 30 minutes for medium or until an instant-read thermometer registers 120ºF (50ºC) for rare or 125ºF (52ºC) for medium. (Remember, the temperature of the beef will rise 5ºF (2ºC) as it rests.) When beef is cooked, remove it from oven, wrap it in the aluminum foil and let it rest 10 to 15 minutes.

5. Pour the red wine into the frying pan with the caramelized shallots and bring to a boil to deglaze the pan by scraping the bottom. Add the stock and boil gently for 5 to 7 minutes or until you have about 1 cup (250 mL) of sauce. Remove the thyme and season with salt and pepper.

6. Unwrap the tenderloin and place on a carving board and add any juices from the meat to the sauce. Slice the meat and serve with the sauce.
SHARE