Roasted Asparagus with Fondatu
Début de l'été 2008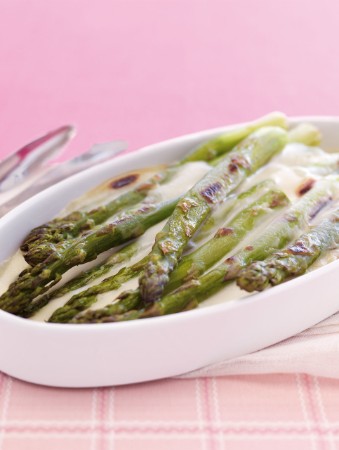 Roasted Asparagus with Fondatu
Début de l'été 2008
BY: Lucy Waverman
Fondatu is an Italian version of a creamy cheese sauce. We tried several cheeses and found that Taleggio cheese made the creamiest, most luscious sauce. We also tried the recipe with nutty French Comte cheese—it had excellent flavour and matched the asparagus well but the sauce was less creamy and smooth. If these are unavailable, use any flavourful cheese that melts well.
2 lb (1 kg) asparagus, woody ends removed
2 tbsp (25 mL) olive oil
Salt and freshly ground pepper to taste
1 tbsp (15 mL) butter
1 tbsp (15 mL) all-purpose flour
1 cup (250 mL) milk
1 tsp (5 mL) Dijon mustard
6 oz (175 mL) Taleggio cheese, rind removed and cut into small cubes
1. Preheat oven to 450°F (230°C).

2. Toss asparagus with olive oil, salt and pepper. Lay asparagus on a baking sheet and roast for 3 to 8 minutes depending on thickness or until tender-crisp. Transfer asparagus to an oven-proof dish.

3. Melt butter in saucepan over medium heat. Add flour and stir to combine. Cook, stirring, for 1 minute. Whisk in milk and cook, whisking, until milk comes to a boil and thickens slightly. Remove saucepan from heat. Add Dijon mustard and cheese and whisk together until melted. Season with salt and pepper.

4. Turn broiler to high and adjust oven rack within 8-inches (20-cm) of top element.

5. Pour cheese mixture over asparagus and broil for 2 to 3 minutes or until sauce is bubbling and browned. Serve as a first course.
SHARE